STUDIO ATHLETICA

& PUSH POUNDS
Studio Athletica & Push Pounds offers the best physiotherapy in Toronto.  We cater to individuals of all abilities, including professional athletes, weekend warriors, and individuals who simply want to move better.
Studio Athletica has some of the best physiotherapy practitioners in Toronto who are subsequently available to offer amongst the best physiotherapy services to any patients in Toronto. Our Registered Physiotherapists have years of experience working with persons of all ages and professions, requiring different types of musculoskeletal system treatments. Our Physiotherapists have worked with the following population groups:  professional and recreational athletes, military, pediatrics, bodybuilders, runners, and many others services. Our Physiotherapists have reliable and proven track-record of effectively treating sports-related injuries and general physical ailments using evidence-based approaches that combines with the latest technologies. They utilize their in-depth knowledge of the body's musculoskeletal and neurological systems  to properly examine, diagnose, and create a customized treatment plan to effectively address your concerns and goals.
Our physiotherapists are well-acquainted with a wide range of treatment options, which they utilize to deliver the best-individualized treatment to our clients. Some of the treatment options may include:
 – Manual (hands-on) therapy
 – Exercise therapy including corrective and functional exercises
 – Postural and biomechanical assessments
 – Sports-specific therapy and training
 – Acupuncture and dry needling
 – Shockwave therapy
 – Electrotherapy
 – Athletic and therapeutic taping
 – Pelvic floor physiotherapy
Using a combination of the above treatment methods, our Physiotherapists develop  comprehensive and evidence-based treatment plans  for each client. This is important as each client's needs and goals relating to the injuryare different and requires personalized approaches to effectively address them.
Studio Athletica physiotherapists are also well-equipped with top-of-the-line technologies and equipments to aid their extensive knowledge, in order to help you with your injuries and needs. A few of our equipments and techonlogies include, but not limited to: Extracorporeal Shockwave Therapy (ESWT), Keiser Indoor Bike, Rogue AirBike, Keiser Functional Trainer, DEXA Body Composition Scanning, and top-of-the-line resistance and weight equipments. Contact us to schedule a session with one of our experts or to enquire about our physiotherapy services.
One of the main reasons you should choose our physiotherapists is because they utilize a hands-on, individualized treatment system. This means that they formulate a treatment plan for each client as per their injuries, system, and needs. This ensures that the physiotherapy treatment offered works and gets your system functioning as before.
Our physiotherapists have acquired unique expertise through training and working with all types of individuals, including professional athletes. They have also acquired knowledge and skills, treating a wide range of conditions affecting the musculoskeletal system. This helps them make well-informed decisions on addressing each type of injury for the best possible outcome.
Even experts need to update their knowledge and skills continually. Our physiotherapists understand the importance of staying updated, and that's why they're always studying, conducting research, or attending forums. This enables them to stay ahead in the physiotherapy field and acquire new techniques that they can integrate into their treatment programs.
Our physiotherapists focus on finding and treating the root cause of pain or injury in your musculoskeletal system. After finding the problem, they formulate the best treatment approach to treat it and prevent future occurrences.
At Studio Athletica, our physiotherapists work as a team alongside medical specialists and other healthcare professionals. This allows them to combine their different sets of skills and specializations to provide comprehensive and effective treatments for our clients. Choosing Studio Athletica physiotherapists in Toronto means choosing experts committed to working with you enabling a life-long functional and healthy body.
Contact us today to enquire about our physiotherapy services and schedule an appointment with one of our experts.
Studio Athletica's physiotherapists have worked with athletes, weekend warriors, sports enthusiasts, performing artists, and anyone suffering from musculoskeletal pain or recovering from an injury. Some of the conditions our Toronto physiotherapists can treat or help you recover from include:
 – Pre and post-op rehabilitation (ACL, Meniscus, Arthroscopy, Fractures, Joint Replacements, etc)
 – General mechanical back pain
 – Specialized Back pain (e.g. spinal stenosis, disc injuries)
 – Dizziness and vertigo
 – Fibromyalgia
 – Frozen shoulder
 – Rotator cuff injuries and tears
 – Golfer's and tennis elbow
 – Headaches and concussions
 – Herniated discs
 – Knee injuries
 – Labral tears
 – Lower back pain/sciatica
 – Iliotibial (ITB) syndrome
 – Piriformis syndrome
 – Lower leg and ankle pain (e.g. shin splints)
 – Knee pain and tendinitis (e.g. patellofemoral syndrome)
 – Achilles pain and tendinitis
 – Meniscus injuries
 – Muscle pain/spasms
 – Myofascial pain syndromes
 – Neck pain
 – Osteoarthritis/osteopenia
 – Pinched nerves
 – Plantar fasciitis
 – Shoulder pain
 – Shoulder, hip, and knee replacements
 – Sports-relatedinjuries
 – Strains and sprains
 – Stress fractures
 – Temporomandibular joint (jaw pain)
 – Urinary incontinence
 – Wrist and hand pain (e.g. Carpal Tunnel, De Quervain's tenosynovitis)
Apart from the conditions, injuries, and recoveries mentioned above, our Physiotherapists have proven track records of  handling any other musculoskeletal system and sports-related issues. They always strive to find the root of the problem, to ensure that you receive the appropriate treatments. To enquire about specific conditions and how our physiotherapists can help you recover from them, contact us today to enquire about our physiotherapy services.
Unfortunately, not all physiotherapy healthcare facilities and persons are as experienced or dedicated as the Studio Athletica & Push Pounds Toronto physiotherapists. Some do not utilize personalized care systems, but instead use the "one care system fits all" model, which may lead to unsuccessful physiotherapy outcomes
At Studio Athletica, we understand that this is quite frustrating as your recovery, health, and time are essential. This is why we have dedicated physiotherapists who help many individuals, with unsuccessful physiotherapy treatments in the past, treat their conditions.
Our physiotherapists take a personalized approach to diagnose and treat each musculoskeletal system condition. Each person has a different system, and although people may be experiencing the same pain or injury, the root problem in their system may turn out to be different. This is why our physiotherapists take an individualized approach to find and treat the problem, ensuring a successful outcome at the end of your treatment plan.
Studio Athletica Toronto Medical Clinic takes each patient's care and recovery process as a team effort. This is why we have a diverse team of physiotherapists, each with a unique and extensive set of skills. For instance, if you are experiencing pelvic pain, we have a Certified Pelvic Floor Physiotherapist who's well-versed in treating pelvic organ prolapse, pelvic floor dysfunction, endometriosis, PCOS, diastasis recti, and more. Whichever condition may be affecting your system, we have a physiotherapist certified to diagnose and treat it.
The combination of diverse skill sets, dedication, experience, and post-graduate training in new fields of physiotherapy, makes Studio Athletica Physiotherapists have proven track records in effectively treating various conditions and injuries.
If you have undergone an unsuccessful physiotherapy toronto treatment in the past, or are currently under a treatment that does not seem to be delivering any results, contact us to schedule a consultation with one of our expert physiotherapists.
Studio Athletica & Push Pounds Sport Medicine Clinic in Toronto has some of the most sought out medical and health specialists. Our team consists of orthopedic surgeons, pain specialists, chiropractors, physiotherapists, athletic, pelvic and massage therapists, acupuncture practitioners, personal trainers, and more!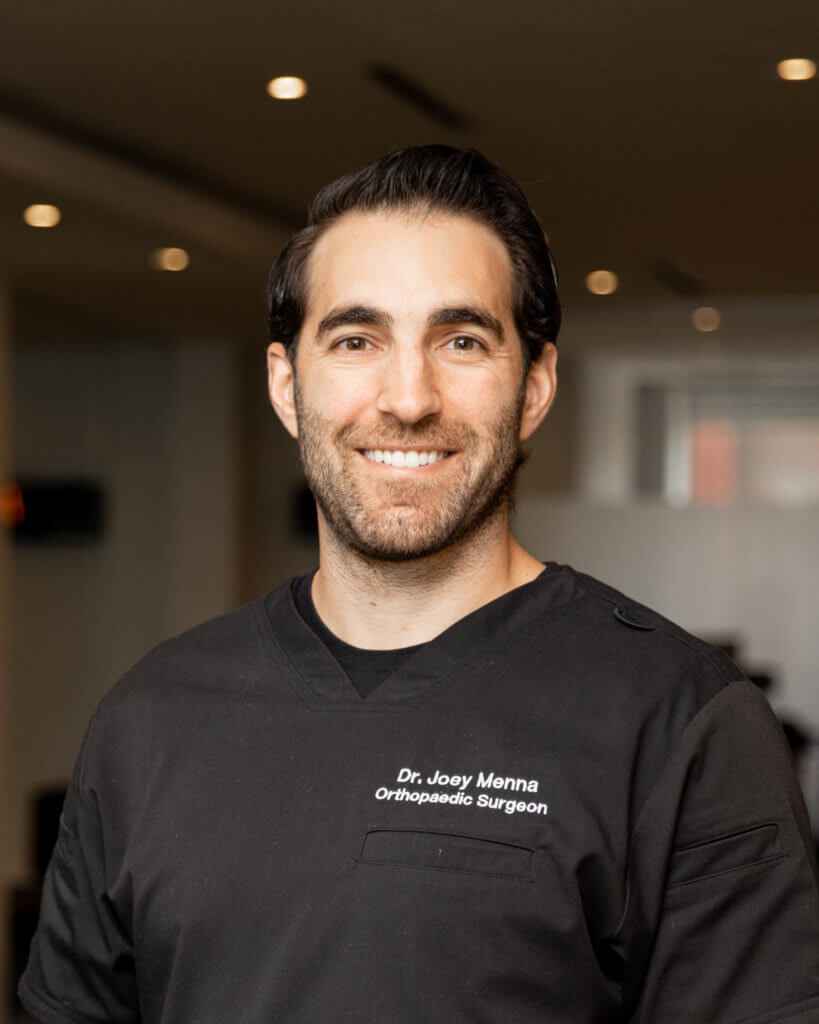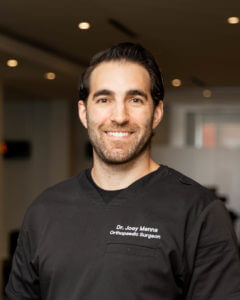 Dr. Joseph Menna, MD, FRCSC
Orthopaedic Surgeon
Dr. Menna is an Orthopaedic surgeon who treats acute and chronic musculoskeletal conditions. He has subspecialty training in sports and arthroscopic surgery, as well as joint replacement surgery. He treats any and all sports type injuries, as well as an expert in arthritis management. He utilizes his expertise to find multi-modal ways to treat his patients, ideally keeping them OUT of the operating room.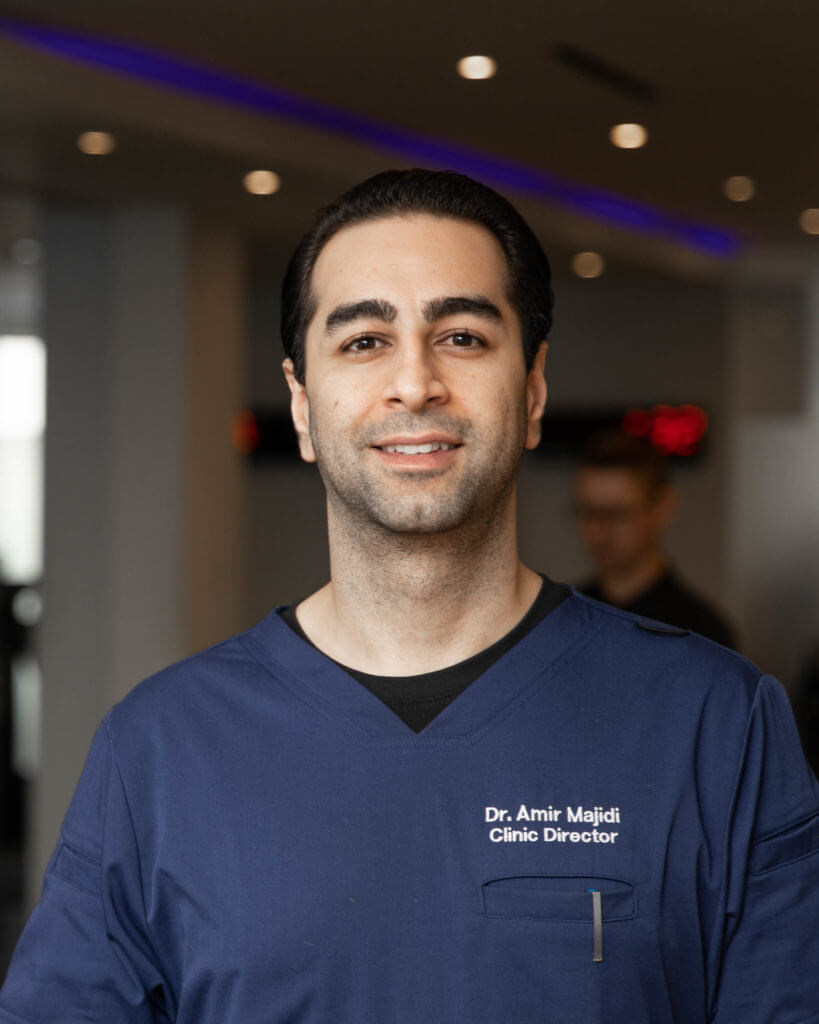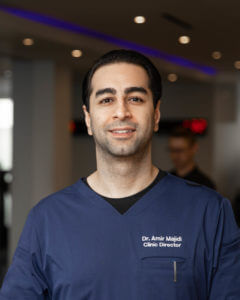 Dr. Amir Majidi, DC,
BSc
Spine & Extremity Chiropractor; Clinic Director
Dr. Majidi is a certified Chiropractor in Toronto Canada and the USA. He specializes in the Human Spring Approach, and he provides treatment, training, and progressive preventative approaches for all musculoskeletal conditions. When it comes to athletes and performers, Dr. Majidi is very sensitive to their particular needs, as their demanding lifestyles command it.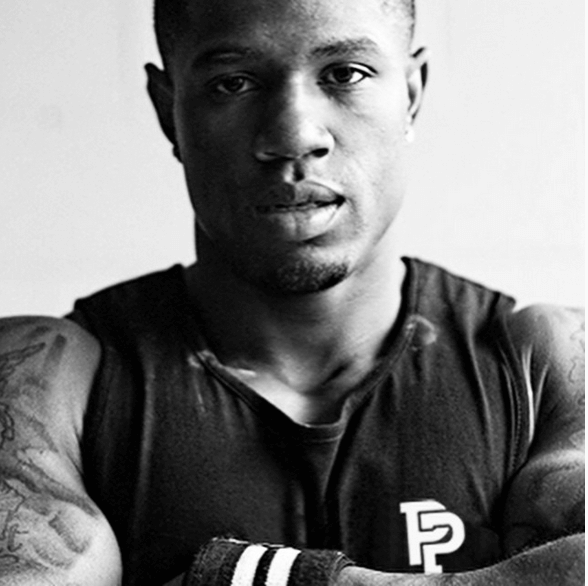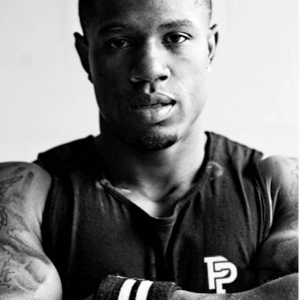 Alonzo Roxx
Thornhill
Performance Director
Alonzo is a performance director who works with a wide range of clients, including professional athletes, celebrities, bodybuilders, and fitness enthusiasts, to find the best ways to enhance their performance. He's one of the best and sought after performance trainers in the city, and works extensively abroad as well. He is the face of Push Pounds
Studio Athletica & Push Pounds  is a Toronto based healthcare and rehabilitation center that exclusively specializes in treating conditions affecting the musculoskeletal system, i.e., the bones, muscles, joints, and nerves.
At Studio Athletica & Push Pounds , we utilize an individualized treatment plan, as each person's system and needs are unique. Our model beats the traditional approach as it combines the three crucial components of musculoskeletal healthcare, i.e., medical sciences (MEDICAL), rehabilitative sciences (RECOVERY), and performance training (PERFORMANCE).  Our fully integrated allied health rehab team works directly with the Orthopaedic ,and other medical specialists we have in house, to optimize the best treatment possible for you, all based on the latest medical research. There is no better use of collaboration between orthopaedic surgeons and a rehabilitation team outside pro sports teams, ensuring best patient care to anyone and everyone that walks in the door!
Our musculoskeletal care system allows us to work with you from the moment you walk into our facility, with or without an injury, to the moment you step out after your last session, having achieved what you wanted. Whether its recovery, medical, or performance training, we have you covered.
Our Studio Athletica & Push Pounds  physiotherapist works with pro athletes, weekend warriors, and anyone who requires musculoskeletal care. Whether you're looking to treat or recover from an injury, surgery, optimizing function with arthritis, or looking to enhance your performance in any aspect of your life, we will be glad to offer our professional services.
Our state-of-the-art facility stands in the heart of Toronto, and it's equipped with advanced equipment and a team of experts ready to deliver high-quality personalized care.