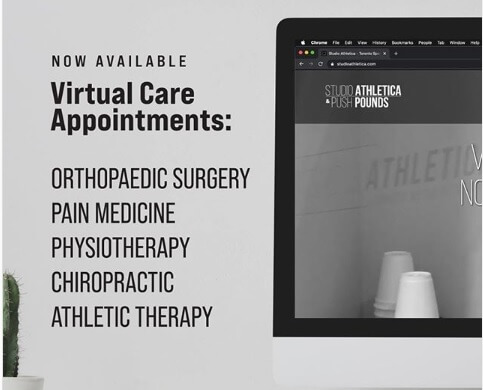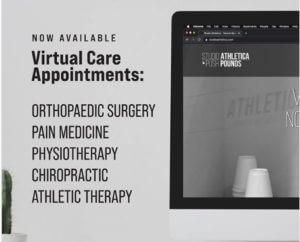 Virtual care, or video sessions, are very simple to navigate and set up. All you need are a laptop/smartphone/tablet with a camera and microphone. No software installation or account creation are required to use this service. 
Prior to your appointment, you will receive an e-mail with the secured web link to your scheduled session. You will also be required to read and accept the virtual care consent form. After that, simply clicking on the link will open up a secure video session with your doctor/therapist. 
 How Does OHIP Virtual Care Differ? Will It Work For Me? 
Firstly, Studio Athletica and Push Pounds ensures strict privacy and information security policies while using electronic communication technologies. Secondly, our doctors and therapists are required to meet the same regulatory and legislative requirements, as they adhere to their respective Standards of Practice and Codes of Conduct.  
 The virtual care session will be very similar to an in-person session, in which the doctor/therapist will ask questions to investigate on your symptoms and pain, while providing an individualized treatment plan to guide you to a healthy recovery. You might also be asked to perform various physical movements during a virtual consultation or follow-up session.  
 Will OHIP cover Virtual Care? 
 Yes, OHIP does cover virtual care
 If you are unsure, have any questions/inquiries, or if you are interested in booking a virtual care appointment, we'd be happy to help by contacting us.  You can also call us at (416) 722-3393 or e-mailing hello@studioathletica.com