Athletic therapy focuses on the prevention and care of musculoskeletal disorders—bones, joints, nerves and muscles—particularly those related to sports, athletics and general physical performance. It differs from physiotherapy—which has a wider scope that also includes cardiovascular and neurological conditions—and focuses on musculoskeletal and orthopedic injury assessments and rehabilitative approaches.
Push Pounds Sports Medicine Toronto's athletic therapists are trained and professionally certified to treat clients of all ages and levels of activity, from pediatrics to geriatrics, weekend warriors to seasoned athletes and everyone else in between. Our approach is anchored on three pillars: the medical sciences, the rehabilitative sciences and performance conditioning and training. Our athletic therapists collaborate with clients very closely to determine the specific approaches required for their needs to help them enhance their performance and achieve personal and professional wellness goals.
Our athletic therapists at Push Pounds Sports Medicine Toronto are internationally-trained to deliver expert-quality clinical care, coupled with a customized progression plan. Such programs include musculoskeletal and postural evaluations, conditioning programs, warm-up techniques, prophylactic and supportive approaches and adapting to different activities and environments. Push Pounds Sports Medicine Toronto is committed to delivering the help that clients need to maximize their performance and improve their overall well-being.
Why Choose a Push Pounds Sports Medicine Toronto Certified Athletic Therapist?
The assessment and handling of musculoskeletal conditions require certified athletic therapists' professional expertise, especially from a member of the Canadian Athletic Therapists Association (CATA). All of our therapists at Push Pounds Sports Medicine have a CAT designation and bring many years of professional experience to their current roles. Also, we provide our specialists with continuous education and field exposure to ensure that they are always at the top of their practice.
A Push Pounds Sports Medicine Toronto certified athletic therapist is well-equipped to conduct injury assessments, acute trauma and dysfunction recognition and management, first aid and basic emergency life support. Beyond directly handling injuries, our specialists are experts in providing rehabilitative support, reconditioning programs and other similar preventive and therapeutic modalities to prepare clients for a major event or to safely return to their active lifestyles.
Another advantage of choosing our athletic therapists is the personalized and hands-on approach to every client's program. We understand that each person has specific needs and goals. Our specialists work closely with clients in a collaborative and empowering environment.
Our Athletic Therapy Services
Manual Therapy
This approach does not require any machines or devices and uses only the therapist's hands for muscle manipulation and mobilization. With this drug-free technique, the therapist massages the problem areas to assess and treat joint and muscle problems, such as pain, limited mobility, joint stiffness, and tension.
Exercise
We offer fitness and rehabilitation services through personalized and evidence-based exercise prescription programs. Similar to a patient receiving a drug prescription, our therapists will prescribe fitness-related activities that will help clients achieve optimal results, whether it be for a healthy individual undergoing rehabilitation or a patient who needs to manage the symptoms of an illness.
Bracing
Push Pounds Sports Medicine Toronto has a wide range of off-the-shelf braces to address orthopedic problems or any other sport or work-related injury. Braces are designed to offer support during movement, offload stress from the injured body part and stabilize the joints to prevent any motion from causing further harm. Braces can be temporary (until the injured area heals) or permanent (as with degenerative diseases and congenital disabilities).
Shockwave Therapy
This non-surgical and non-invasive treatment for pain involves delivering shock waves to specific areas to reduce discomfort and promote faster healing. Those who are candidates for shockwave therapy are often advised to also receive other athletic therapy treatments to hasten the recovery process.
Our Toronto Athletic Therapist Team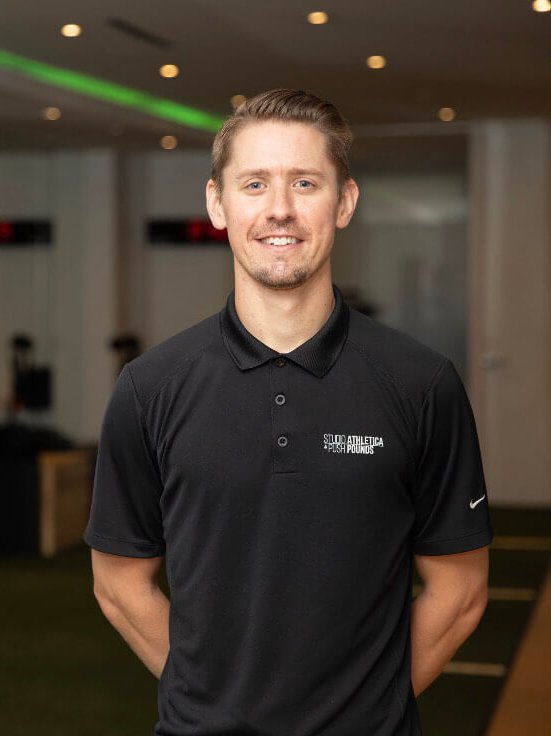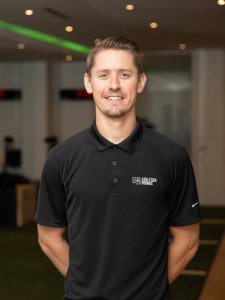 Peter Cobb, RMT, CAT(C)
Certified Athletic Therapist
Registered Massage Therapist
Peter has more than six years' experience treating clients of all ages for various injuries and musculoskeletal conditions. Before becoming a Certified Athletic Therapist, he completed his undergraduate degree in Kinesiology at Brock University. After which, he attended the College of Massage Therapists of Ontario in 2013 to develop his manual skills further and earn a Registered Massage Therapist license.
Peter is committed to providing the best possible route of action for his clients and strives to determine the root cause of pain to create individualized treatment programs. His expertise includes trigger-point therapy, myofascial release, joint mobilization, therapeutic taping, stretching, modalities, and targeted strengthening exercises. With an extensive background in biomechanics and sport-related injuries, Peter has also worked with many junior-level athletes in the fields of football, hockey, lacrosse, and tennis. He was also part of the 2015 Toronto Pan Am Games as a medical volunteer.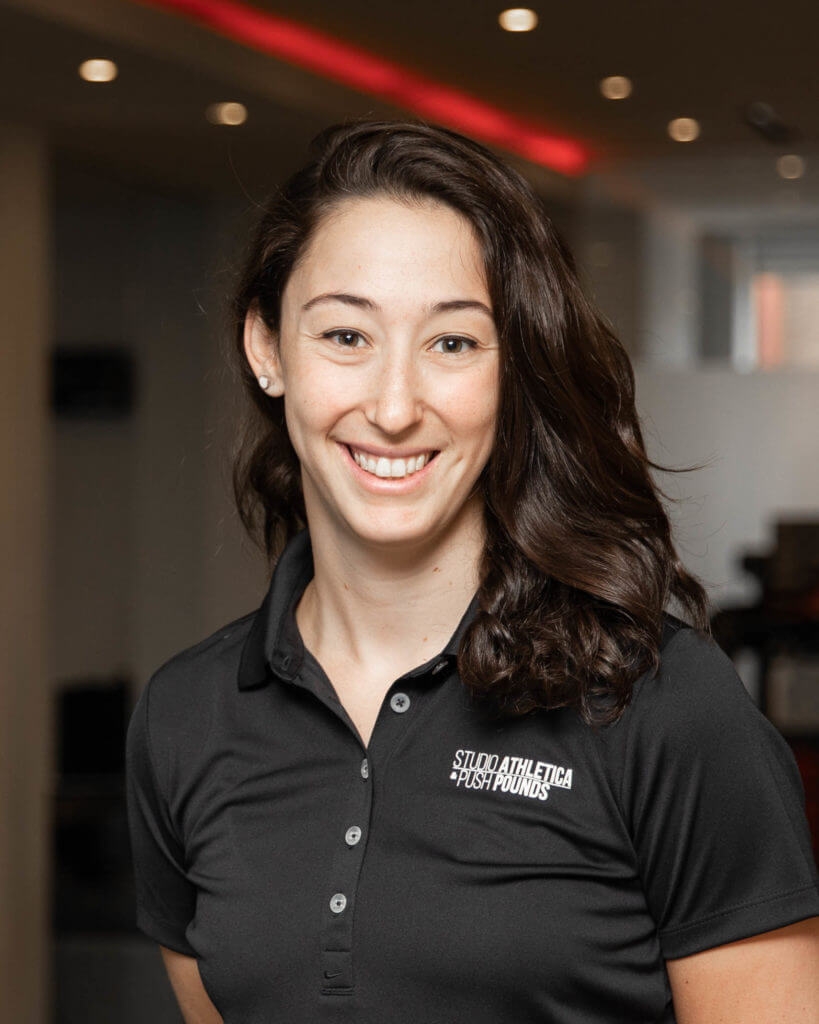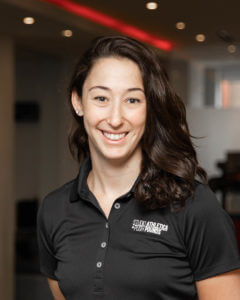 Alix Mahood, RMT, CAT(C)
Certified Athletic Therapist
Registered Massage Therapist
Alix brings years of experience in functional training and sports-related injuries, having been a member of the York University varsity field hockey and track and field teams. She completed her undergraduate degree in Kinesiology at York University, where she also earned her Athletic Therapist and Registered Massage Therapist licenses. She has worked with many athletes at different sporting levels, including the Hamilton Tiger-Cats and Major Series Lacrosse.
Alix has a very hands-on approach to treatment and is committed to creating personalized programs for every client to help them reach their goals. Her specialization areas include myofascial release, trigger-point therapy, therapeutic taping, joint mobilization, modalities, and stretching and strengthening exercises. Outside of work, she leads an active lifestyle through rock climbing, volleyball, and cycling.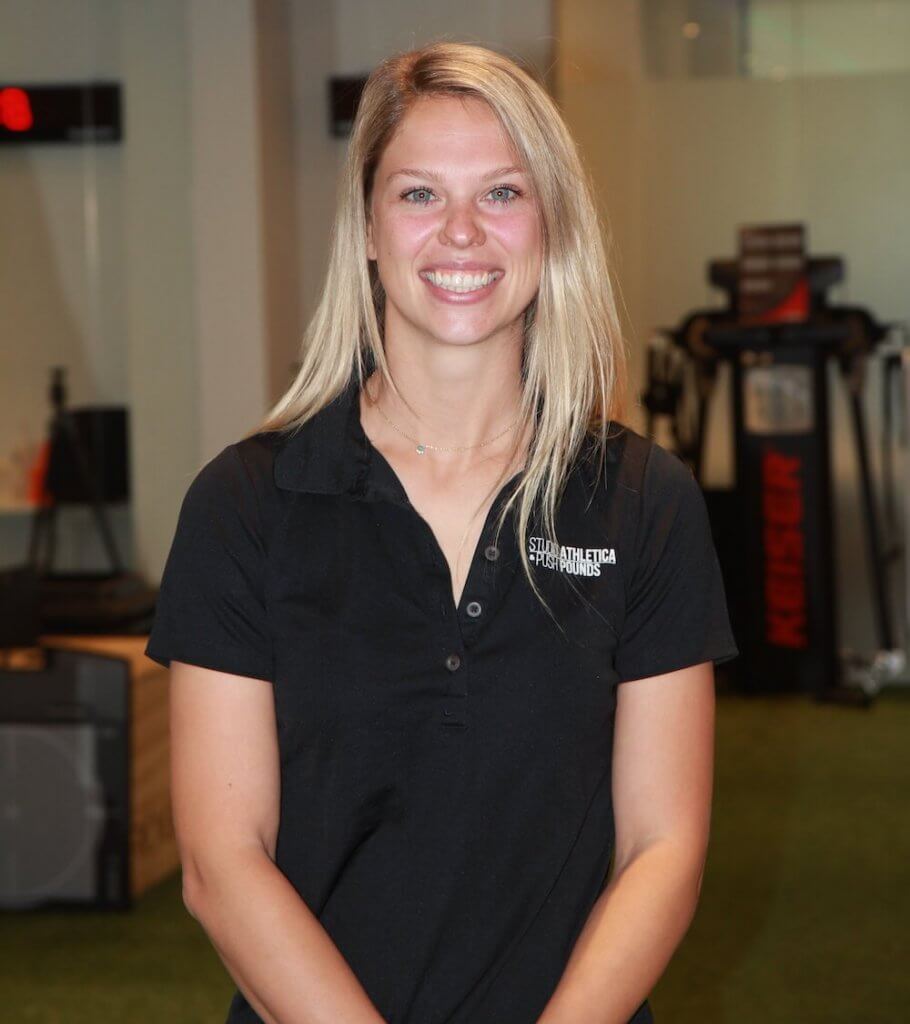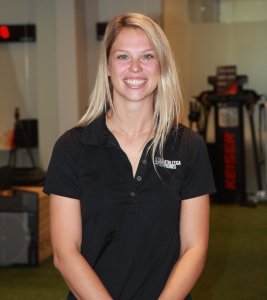 Meagan Brown, RMT, CAT(C)
Certified Athletic Therapist
Registered Massage Therapist
Meagan began her career working in a multidisciplinary clinical setting in Toronto and has worked alongside Canadian Alpine skier Ali Nullmeyer as her dedicated Athletic Therapist during the 2017/18 and 2018/19 seasons. Her role in Ali's return from serious injury (bilateral ACL and meniscus tears) is considerable and she has travelled with the athlete across North America and Europe to aid in the latter's full recovery prior to competing once again on the Alpine World Cup. In addition, she has also worked with the National Basketball Referee Association (NBRA) during the 2019/2020 season, providing pre-gram treatment to referees before Toronto Raptors home games.
Meagan earned her degree in Kinesiology in 2012 from Dalhousie University and then later got another degree in Applied Health Science: Athletic Therapy from Sheridan College. She also holds a diploma in Massage Therapy from the Ontario College of Health and Technology and a Medical Acupuncture diploma from McMaster University. Her areas of expertise include custom brace fittings, shockwave therapy, functional movement, and soft tissue techniques and tissue manipulation. Her practice combines both passive rehabilitation and dynamic exercises to influence and promote a client's active lifestyle.