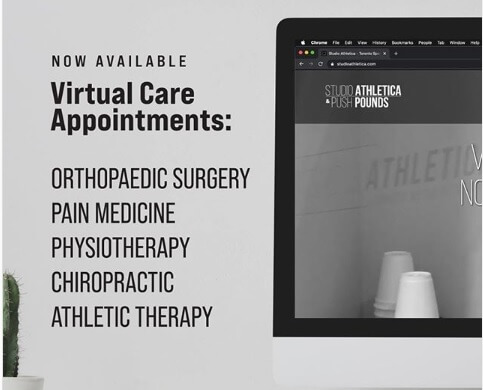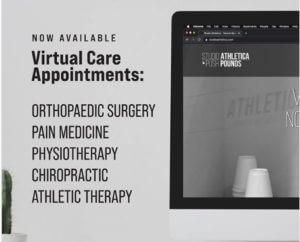 Virtual care, or video sessions, are very simple to navigate and set up. All you need are a laptop/smartphone/tablet with a camera and microphone. No software installation or account creation are required to use this service. 
Prior to your appointment, you will receive an e-mail with the secured web link to your scheduled session. You will also be required to read and accept the virtual care consent form. After that, simply clicking on the link will open up a secure video session with your doctor/therapist. 
 How Does Virtual Care Differ? Will It Work For Me? 
Firstly, Studio Athletica and Push Pounds ensures strict privacy and information security policies while using electronic communication technologies. Secondly, our doctors and therapists are required to meet the same regulatory and legislative requirements, as they adhere to their respective Standards of Practice and Codes of Conduct.  
 The virtual care session will be very similar to an in-person session, in which the doctor/therapist will ask questions to investigate on your symptoms and pain, while providing an individualized treatment plan to guide you to a healthy recovery. You might also be asked to perform various physical movements during a virtual consultation or follow-up session.  
Most orthopedic cases can be treated through virtual care, including pre and post-surgical rehabilitation, back and neck pain, muscle strains, joint sprains, osteoarthritis, pre and post-natal issues, and many others. In fact, some studies say that virtual care for orthopedic hip and knee surgical recovery have shown to achieve very similar results compared to in-person visits (references 1, 2).  
 Studio Athletica and Push Pounds highly value face-to-face interactions and therapy with our clients. However, the means of delivering care virtually have allowed us to avoid a halt in delivering our service towards your physical rehabilitation. Not only do you receive the same standard of care from the comfort of your home, but it also allows your doctor/therapist to adapt to your specific home environments. Virtual care also promotes more of an active approach towards recovery, which has been proven to show better outcomes for pain (reference 3).  
 Will Insurance Companies Reimburse for Virtual Care? 
 Yes, most extended health insurance benefit plans in Ontario have adapted by reimbursing for telehealth or virtual care sessions. However, insurance policies are constantly adapting as we advise that you contact your insurance company directly to confirm your coverage details. 
 If you are unsure, have any questions/inquiries, or if you are interested in booking a virtual care appointment, we'd be happy to help by contacting us.  You can also call us at (416) 722-3393 or e-mailing hello@studioathletica.com