At Push Pounds Sports Medicine, our orthopaedic surgery team provides clients with advanced and targeted approaches to different musculoskeletal conditions that affect mobility, movement and ultimately pain and function. Our experienced specialists develop personalized strategies that address any impairments leading to discomfort in your muscles, tendons, ligaments, joints, bones, and nerves. Push Pounds Sports Medicine's goal is to help you achieve an optimal quality of life, providing pain free function through in-depth patient (technology-based?) education, therapeutic interventions, multidisciplinary rehabilitation, and as a last resort, medications if necessary. Of course, our orthopaedic physicians also perform surgical procedures, like joint replacement and arthroscopic surgery.
What is an Orthopaedic Surgeon?
An orthopaedic surgeon is a specialist in a surgical branch that addresses musculoskeletal conditions. Ortho surgeons use one or a combination of surgical and non-surgical interventions to relieve pain and treat bone, joint, and muscle diseases and trauma. Our team at Push Pounds Sports Medicine consists of orthopaedic surgeons who have completed advanced education and training in therapy and medicine.
What Do We Treat?
Push Pounds Sports Medicine offers a variety of musculoskeletal related treatments, including the following:
Any discomfort or disease related to the muscles, bones, joints, tendons, and ligaments, nerves

Joint pain, swelling, and instability
Restricted mobility or range of motion
Sports-specific and competition-related injuries (via surgical or non-surgical interventions)
Injury healing and repair
Optimizing soft tissue biomechanics for improved function
Early or late osteoarthritis
Consultations on the proper use of orthotic braces and athletic equipment
About Us
Our orthopaedic surgeons specialize in a wide range of musculoskeletal conditions. Consultations typically begin by obtaining a detailed history of your condition, including medications and any therapy received before the appointment. We will conduct a full physical examination, which usually includes reviewing of all medical imaging or bloodwork. If needed, these will be ordered by our physicians. Our specialist will then provide a detailed explanation of your diagnosis, prognosis, and design a treatment program through our highly integrated, multidisciplinary approach, to help you regain your best physical health and performance. Our goal is to treat the underlying problem,  give you a deeper understanding of your condition, and educate you on credible possible treatment options available.
Canadian residents will need a referral from their respective physicians to schedule a consultation with our orthopaedic surgeons, while international clients may book directly by contacting us at 416-722-3393.
Our Surgeons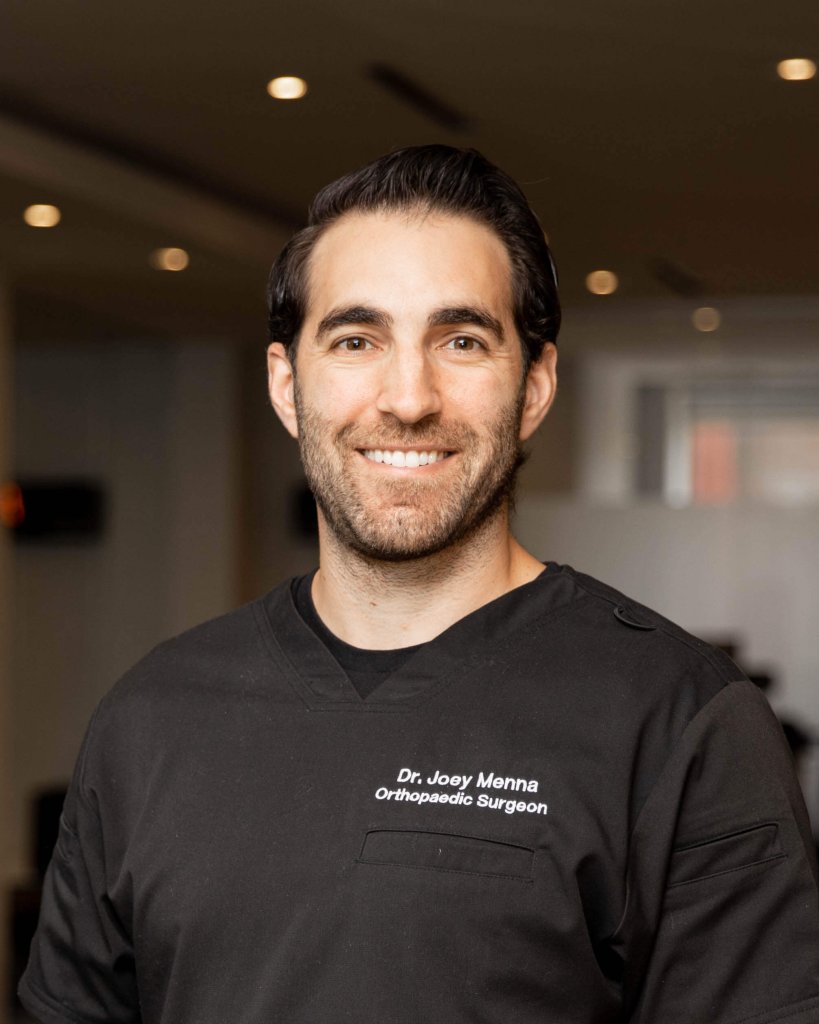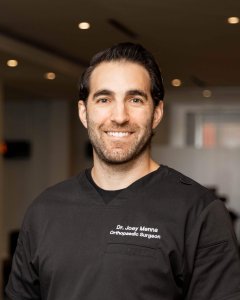 Dr. Joseph Menna, M.D., FRCSC
Orthopaedic Surgeon
Dr. Menna is an orthopaedic surgeon who completed his medical degree at the University of Ottawa before proceeding to his residency training at the University of Toronto. He specializes in arthroscopic and sports surgery, including the shoulder and knee, He has formal training in both robotic-assisted knee replacement, as well as anterior hip replacement. Treating a wide range of acute and chronic issues in the upper and lower extremity, Dr. Menna utilizes multidisciplinary and multimodal treatment strategies to help patients avoid surgery and out of the operating room.
Dr. Jihad Abouali, M.D., FRCSC
Orthopaedic Surgeon
Dr. Abouali is a fellowship trained Orthopaedic Sports Surgeon at Michael Garron Hospital in Toronto. He completed medical school and surgical training at McMaster University, and completed additional subspecialty training in Sports Medicine at the University of Toronto. During his fellowship, he trained under the team surgeons for the Toronto Maple Leafs and Toronto Blue Jays, providing him with invaluable experience he would continue to use in his own practice.
He has acted as the team Orthopaedic Surgeon for the Toronto Argonauts and Toronto FC, and is a consultant with Canada Basketball men's national team and Canada Soccer women's national women's team. At the Toronto 2015 PanAm Games he was appointed the role of Lead Medical Physician, and in 2022 he was appointed Chief Orthopaedic Surgeon of the Ontario Summer Games. Dr. Abouali is currently the head team physician for the Scarborough Shooting Stars basketball team.
His practice involves treating recreational, amateur and professional athletes with upper and lower extremity injuries, with a special interest in arthroscopic knee, hip, ankle and shoulder surgery as well as regenerative orthobiologic medicine. He performs over 200 anterior cruciate ligament (ACL) reconstructions a year, making him one of the highest volume ACL surgeons in Toronto. Dr. Abouali is also the medical director at Push Pounds Sports Medicine in East York.
Dr, Joyce Fu, M.D., FRCSC
Orthopaedic Surgeon
Dr. Joyce Fu is a fellowship-trained orthopaedic surgeon with the Royal College of Physicians and Surgeons of Canada and a Lecturer at the University of Toronto. She specializes in the surgical treatment of adult foot and ankle conditions, including arthritis, deformity and sports injuries with special interest in minimally invasive techniques.
Dr. Fu received her Bachelor of Science from McGill University, and subsequently completed a Master of Science and Medical Degree in Washington DC, at Georgetown University. In 2019, she attained her FRCSC in Orthopaedic Surgery following completion of her residency at the University of Toronto. She completed a fellowship in Adult Foot and Ankle Reconstruction at the University of Toronto.
Her surgical practice focuses on adult foot and ankle reconstruction with a special interest in sports injuries, and minimally invasive technique for deformity reconstruction.