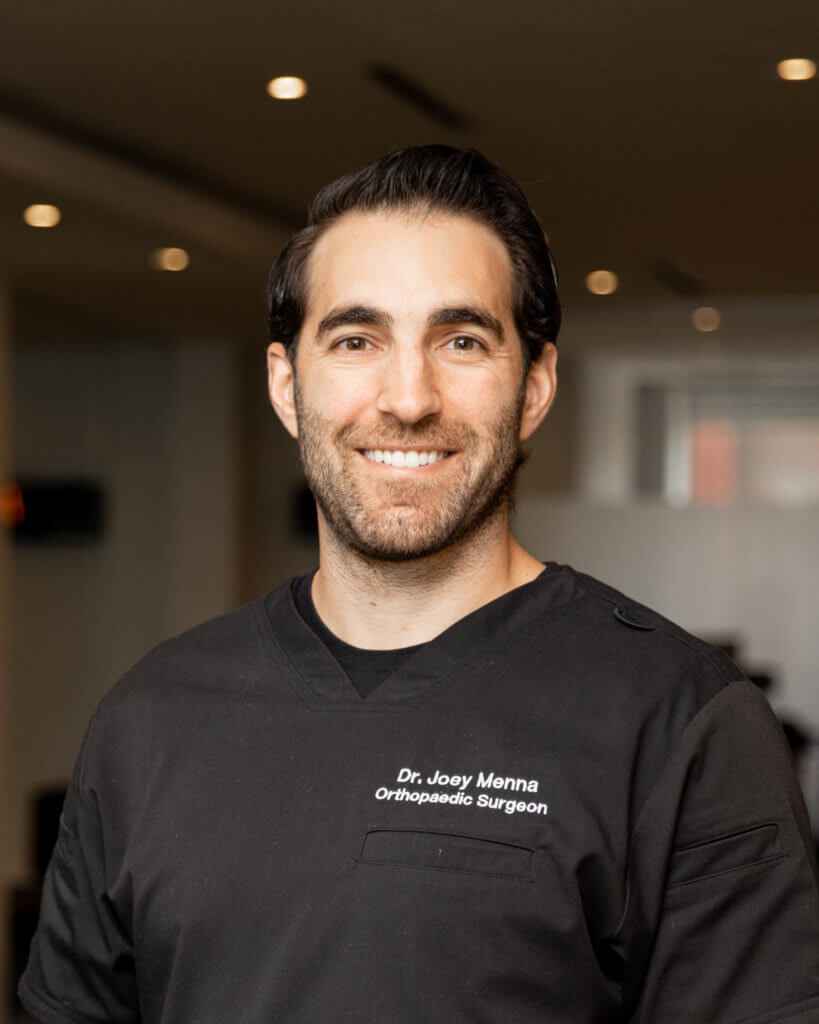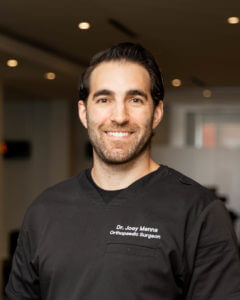 Dr. Joseph Menna, MD, FRCSC
Orthopaedic Surgeon
Dr. Menna is an Orthopaedic surgeon with subspecialty training in sports and arthroscopic surgery, as well as shoulder, hip and knee joint replacement. With the wide breadth of his practice, he successfully treats a variety of acute and chronic conditions, in both the upper and lower extremity. He utilizes multidisciplinary and multimodal treatment strategies to try to actually keep his patients out of his operating room and avoid surgery.
Dr. Menna's medical degree is from the University of Ottawa, followed by his residency training at the University of Toronto. His subspecialty fellowship training was completed at Michael Garron Hospital, Toronto Western, St Michael's, and Mount Sinai/Women's College Hospitals.
---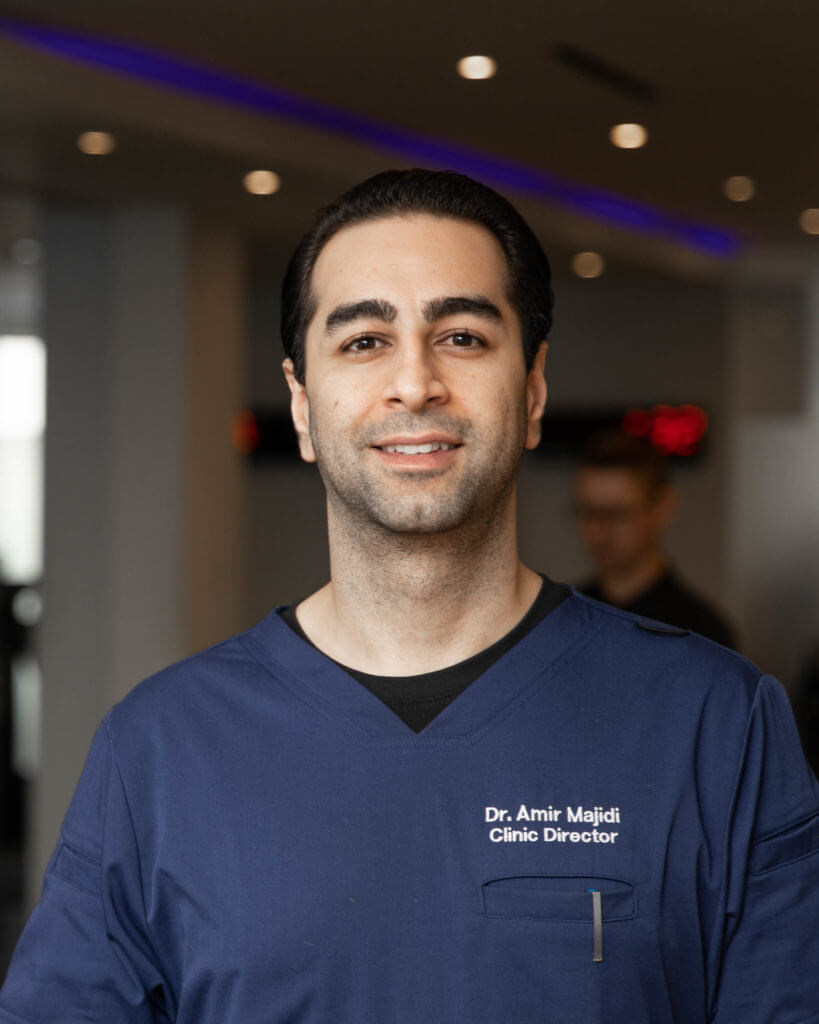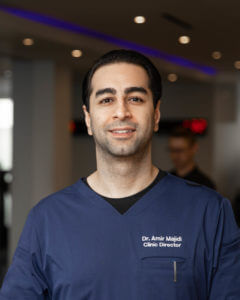 Dr. Amir Majidi, DC, BSc
Spine & Extremity Chiropractor
Clinic Director
Dr.Majidi is a board certified Chiropractor in Canada and USA with expertise in the Human Spring Approach. Dr. Majidi holds a Doctor of Chiropractic from New York Chiropractic College and was conducted into the Phi Chi Omega Honour Society. Dr. Majidi was consecutively named to New York Chiropractic College Dean's list and awarded numerous scholarships for international student recognition. He provides treatment, training and progressive preventative approaches for all musculoskeletal conditions. Dr. Majidi utilizes a multi-modality approach and has a special interest in extremity based care. Dr. Majidi has experience treating on tour, and he is very sensitive to the special needs of professional athletes and entertainers regarding their highly demanding lifestyle. Dr. Majidi's work in the field of Sports Medicine has been presented internationally in a series of lectures for the American Academy of Anti-Aging And Regenerative Medicine. Dr. Majidi visited Kuala Lumpur, Malaysia, where he assisted a presentation relating to biomechanics and inflammation. He has been invited to assist with workshops and presentations at medical conferences in Las Vegas, Bangkok, Bali, and Shanghai. Outside of the clinic, Amir enjoys researching and exploring new innovative ideas.
---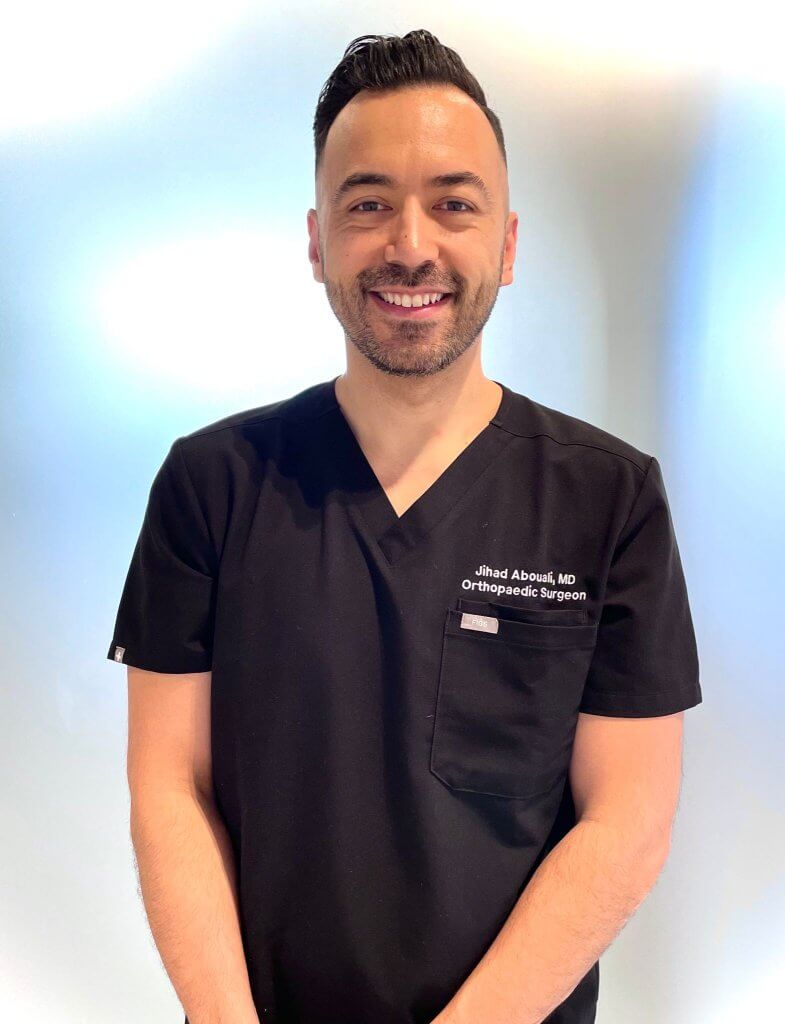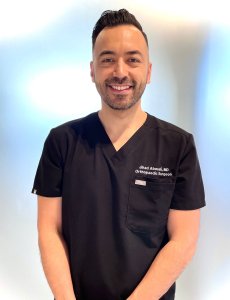 Jihad Abouali, M.D., FRCSC
Orthopaedic Surgeon, Michael Garron Hospital
Assistant Professor, Department of Surgery, University of Toronto
Dr. Abouali is a fellowship trained Orthopaedic Sports Surgeon at Michael Garron Hospital in Toronto. He completed medical school and surgical training at McMaster University, and completed additional subspecialty training in Sports Medicine at the University of Toronto. During his fellowship, he trained under the team surgeons for the Toronto Maple Leafs and Toronto Blue Jays, providing him with invaluable experience he would continue to use in his own practice.
He has acted as the team Orthopaedic Surgeon for the Toronto Argonauts and Toronto FC, and is a consultant with Canada Basketball men's national team and Canada Soccer women's national women's team. At the Toronto 2015 PanAm Games he was appointed the role of Lead Medical Physician, and in 2022 he was appointed Chief Orthopaedic Surgeon of the Ontario Summer Games. Dr. Abouali is currently the head team physician for the Scarborough Shooting Stars basketball team.
His practice involves treating recreational, amateur and professional athletes with upper and lower extremity injuries, with a special interest in arthroscopic knee, hip, ankle and shoulder surgery as well as regenerative orthobiologic medicine. He performs over 200 anterior cruciate ligament (ACL) reconstructions a year, making him one of the highest volume ACL surgeons in Toronto. Dr. Abouali is also the medical director at Push Pounds Sports Medicine in East York.
---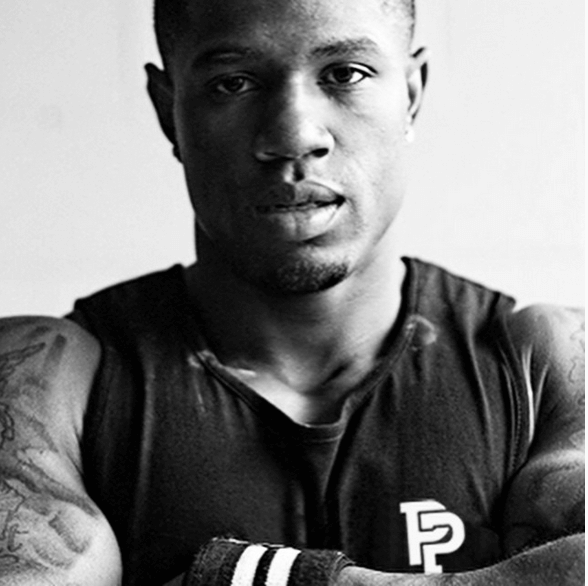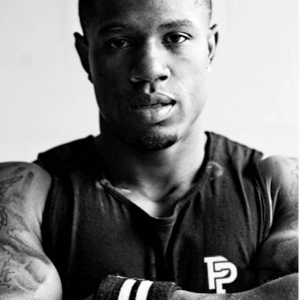 Alonzo Roxx Thornhill
Performance Director
@ipushpounds
Performance – brought to you by Pushpounds http://www.pushpounds.com
---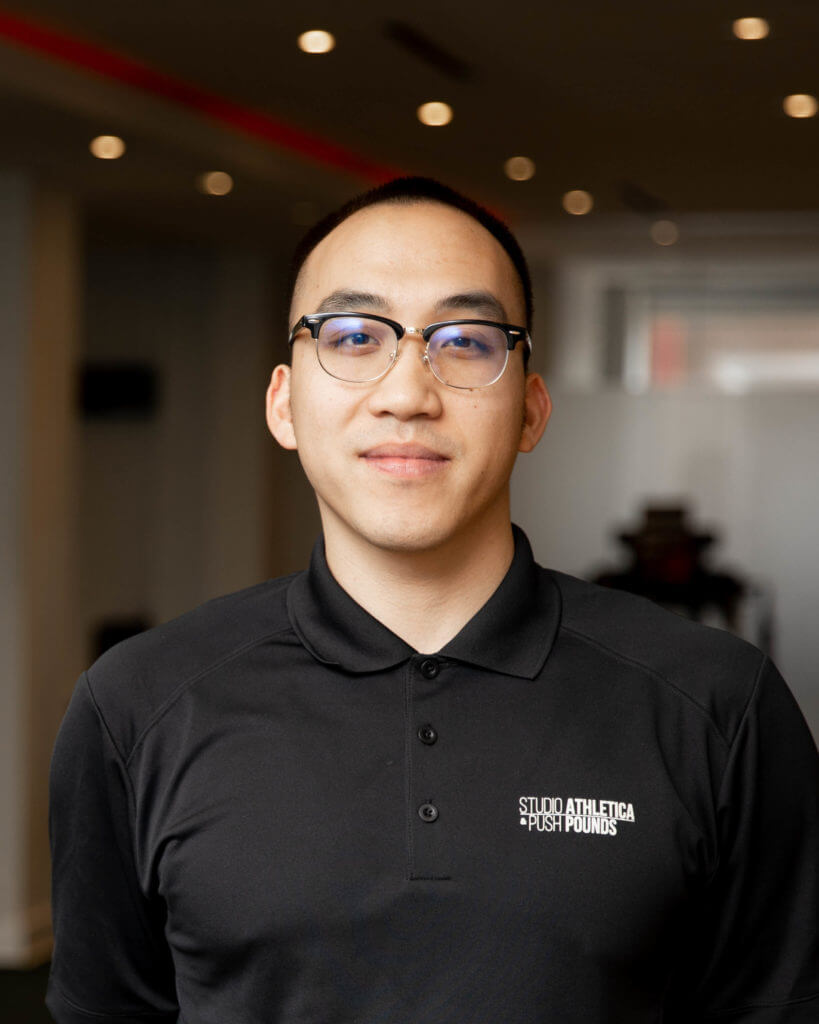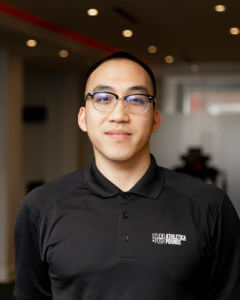 Dr. Alan Bui, DC, BSc
Spine & Extremity Chiropractor
Clinic Director
Dr.Bui is a board certified chiropractor who holds a doctorate from New York Chiropractic College. Dr. Bui's combines integrative manual therapy and full body movement exercises to manage musculoskeletal conditions. Dr. Bui utilizes a customized approach unique to each individual's in meeting their goals and has a special interest in extremity based care.
Dr. Bui uses only an evidence based multi modal approach approach including; assisted soft tissue techniques, cryotherapy & compression therapies, shockwave, manual adjustments, custom ACL / PCL bracing and custom made orthotics using 3D cutting edge laser technology. Dr. Bui lives a healthy active lifestyle and enjoys working out, playing sports, reading and listening to podcasts.
---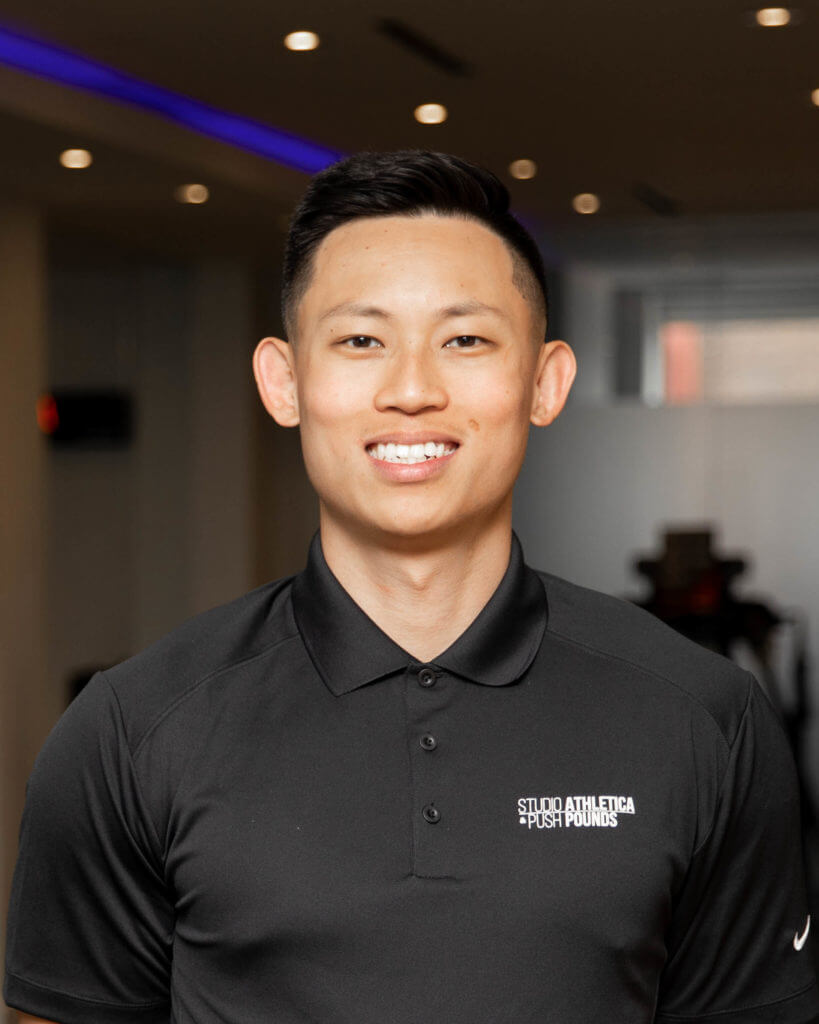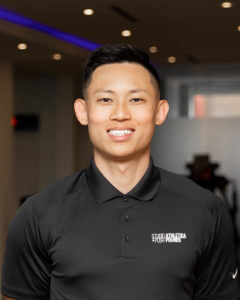 Joshua Irwanto, MScPT, BA Kin, CSCS, FRCms
Registered Physiotherapist
NSCA Certified Strength & Conditioning Specialist
Functional Range Conditioning® Mobility Specialist
Functional Dry Needling (FDN) Level 1

After earning his Specialized Honours Bachelor's Degree in Kinesiology & Health Sciences at York University, Josh ventured and pursued his Master's Degree of Physiotherapy in Aberdeen, Scotland. After returning from Scotland, he has solidified himself into the world of musculoskeletal (MSK) practice, specifically in orthopedics and sports medicine. 
Josh has special interests in the rehabilitation of musculoskeletal and neurological injuries, sports-related injuries, pre/post-operative care, as well as human performance optimization. Having previously competed in university-level basketball, Josh understands the importance of proactiveness in managing one's physical wellness. His versatile repertoire as a physiotherapist and strength & conditioning specialist stimulate creativity for innovative treatment plans in injury rehabilitation and performance optimization. He continues to serve population groups of all ages and levels, including athletes of the NBA, NHL, MLS, and York University. 
---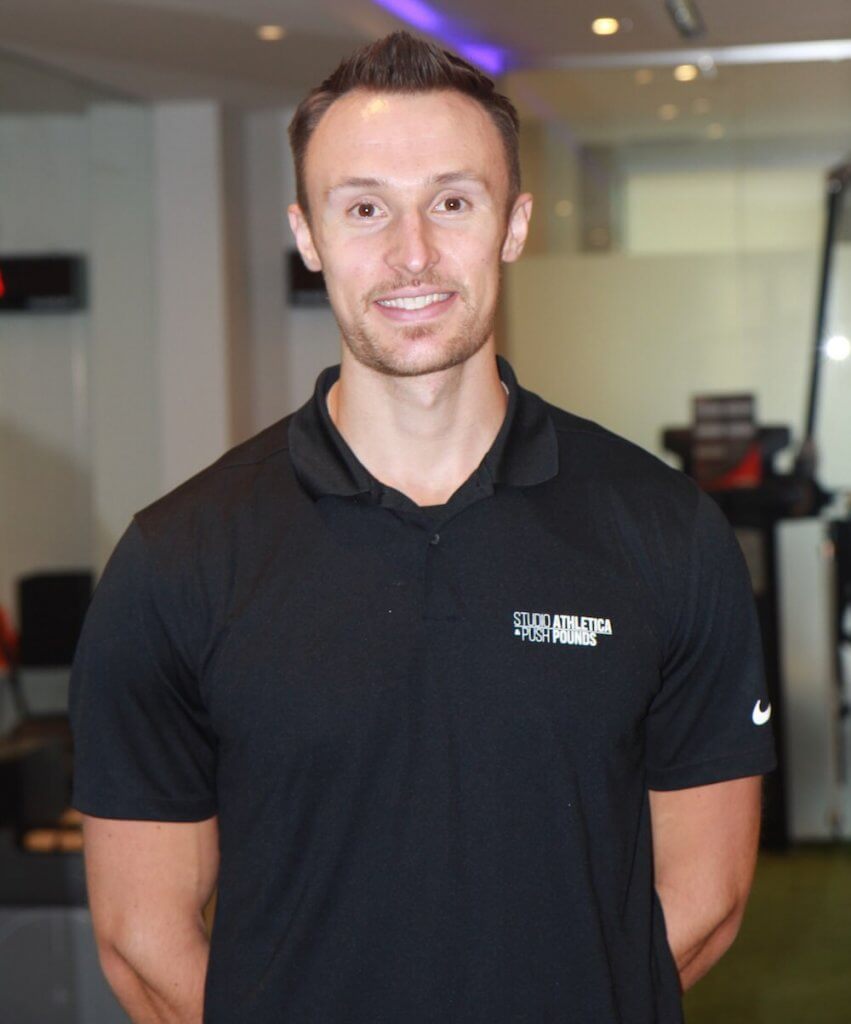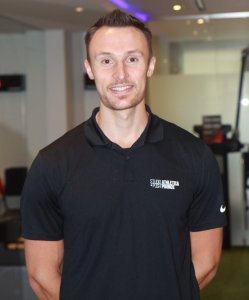 Dr. Darrin Germann | BSc (Hons), DC
RCCSS(C) Sports Sciences Resident
After receiving a Bachelor of Science Degree (Honours) in Kinesiology at Queen's University,
Dr. Germann went on to graduate from the Canadian Memorial Chiropractic College (CMCC) with the Summa Cum Laude distinction, and he received a graduation scholarship for holding the highest cumulative grade point average (GPA) in his class across the 4-year Doctor of Chiropractic program. He then decided to further refine his knowledge and expertise by pursuing a two-year post-graduate residency to become a Sports Specialist. Dr. Germann has conducted research focused on sport-related concussion and mild-traumatic brain injury, and now holds a research associate position with the Centre for Disability Prevention and Rehabilitation through the Faculty of Health Sciences at Ontario Tech University. He has also travelled abroad to present his prior research at the international World Federation of Chiropractic (WFC) 2019 Congress in Berlin, Germany.
Dr. Germann has worked numerous sporting events including the 2019 Fencing PanAm Games, the Toronto Triathlon, provincial taekwondo championships, and several national-level events in soccer, mountain biking, and wakeboarding. He most recently served as the team chiropractor for the Toronto Rush, and was able to follow his passion of working with professional hockey players as part of the inter-disciplinary medical team at Gary Robert's High-Performance NHL Training Camp. Dr. Germann is also Titleist Performance Institute (TPI) certified, providing him with the knowledge to identify and address movement limitations that may be influencing your golf swing. Dr. Germann focuses on creating evidenced-based treatment plans with a particular focus on active rehabilitation in order to minimize symptoms and optimize performance.
Outside of clinic, Dr. Germann enjoys exploring his passions for hockey, golf, fitness / body building, and he loves spending time on the water at the cottage.
---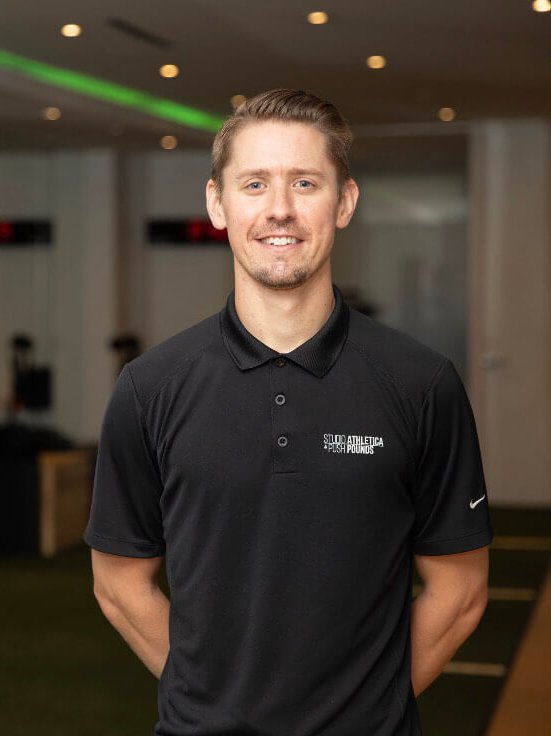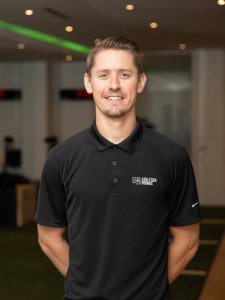 Peter Cobb, RMT, CAT(C)
Certified Athletic Therapist
Registered Massage Therapist
Peter completed his undergraduate degree in Kinesiology from Brock University and shortly after went on to become a Certified Athletic Therapist. To further develop his manual skills, Peter became a Registered Massage Therapist with the College of Massage Therapists of Ontario in 2013. Peter has over 6 years experience treating clients of all ages with varying injuries and conditions. He strives to determine the root cause of his clients pain and creates individualized treatment programs incorporating such techniques as trigger-point therapy, myofasical release, joint mobilization, therapeutic taping, modalities, stretching and targeted strengthening exercises.
Using his extensive knowledge of biomechanics and sport related injuries, Peter has also worked with many junior level athletes including but not limited to Hockey, Lacrosse, Football and Tennis players and volunteered on the Medical Team for the 2015 Toronto Pan Am Games.
Peter is passionate about helping his clients make positive, informed decisions about their longterm health, wellness and optimal performance.
---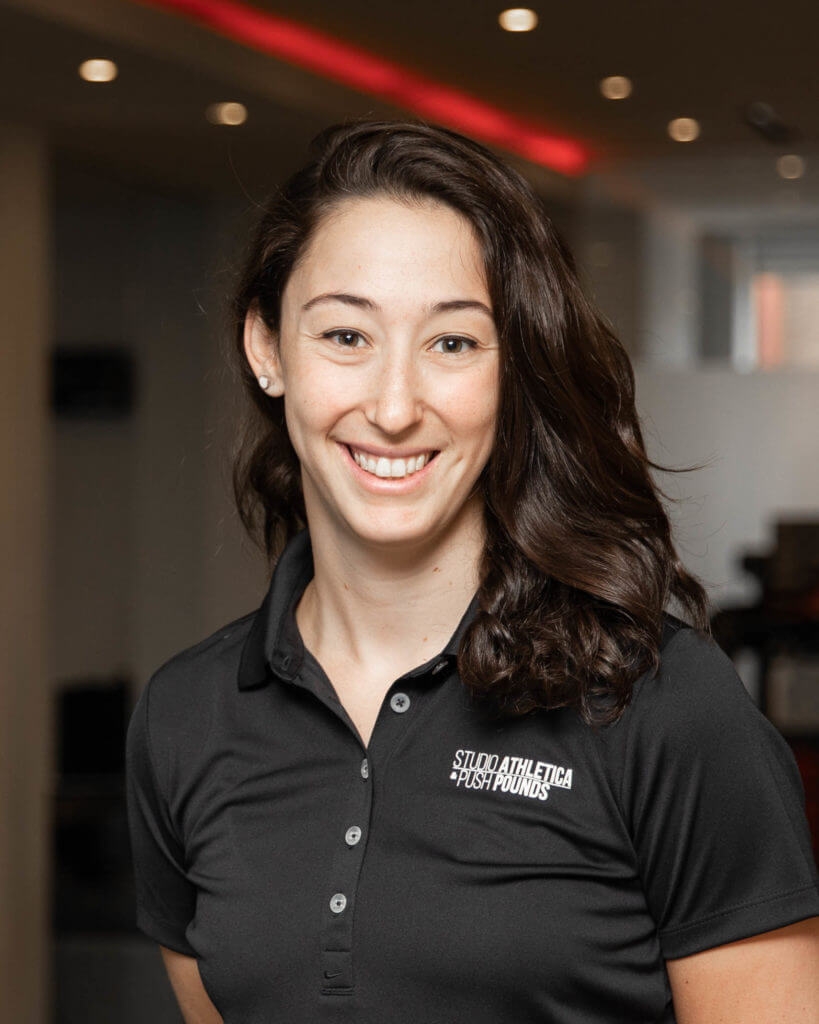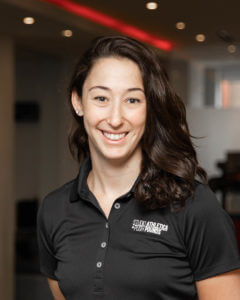 Alix Mahood, RMT, CAT(C)
Certified Athletic Therapist
Registered Massage Therapist
Alix completed her undergraduate degree in Kinesiology at York University, as well as her certificate in Athletic Therapy & Registered Massage Therapy. Using techniques such as trigger-point therapy, myofascial release, joint mobilizations, therapeutic taping, modalities, stretching and strengthening exercise, she is committed to creating individualized treatment programs for a variety of injuries and to help clients reach their goals.
Alix was a member of the York University varsity field hockey & track and field teams which led to a passion for treating sports related injuries and functional training. She has worked with athletes at many different levels of sport such as Rugby, Hockey, Football and Lacrosse which include the Hamilton Tiger-Cats and Major Series Lacrosse.
Alix continues to lead an active lifestyle outside of work through cycling, volleyball and rock climbing. Her passion for fitness and functional rehabilitation allows her to help clients make positive decisions about their long-term health and wellness.
---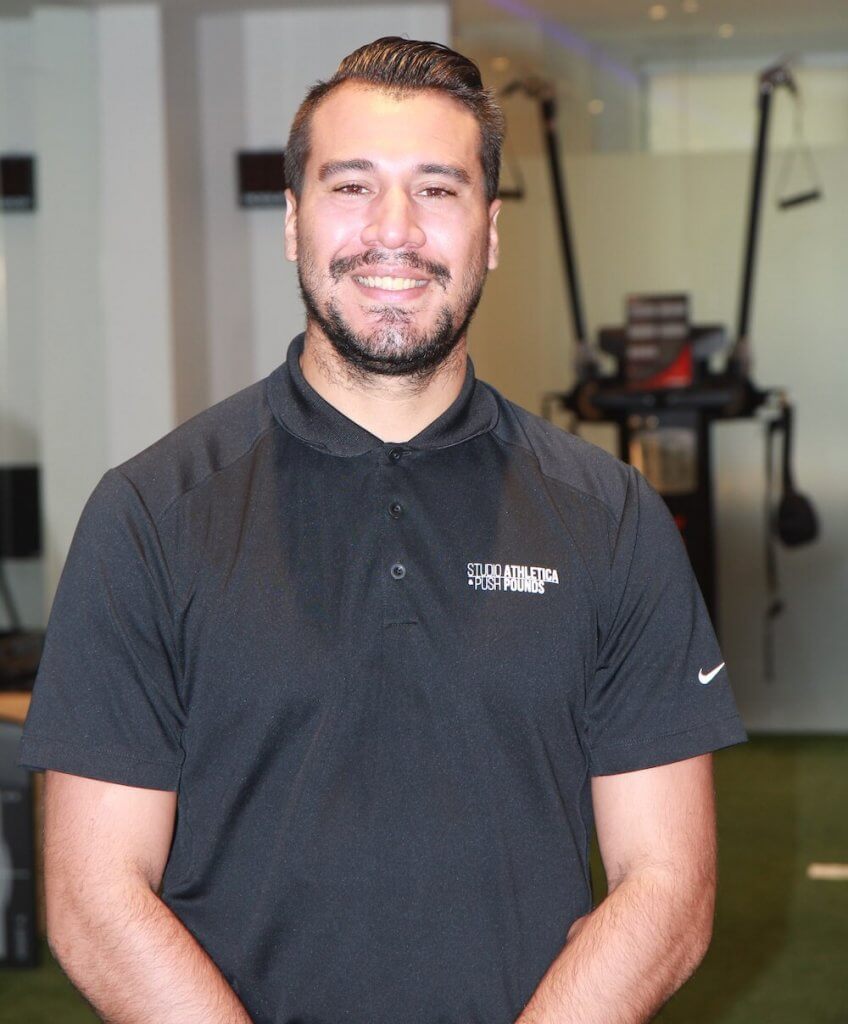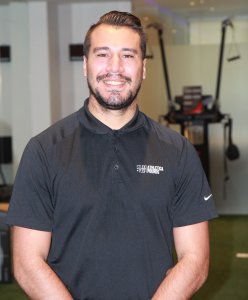 Roman Izquierdo, MSc PT, BSc Kin(Hons)
Registered Physiotherapist
Contemporary Medical Acupuncture
Roman is an innovative physiotherapist, specializing in injury rehabilitation, musculoskeletal health preservation, and performance optimization. As a graduate of Western University & a registered physiotherapist, He provides unmatched treatments through his unique application of Contemporary Medical Acupuncture, Dry needling, joint mobilization/manipulation, and soft tissue techniques.  Roman has been lucky enough to work with professional, Paralympic, and Olympic level athletes in-clinic and courtside alongside medical staff. He is very happy and proud to have seen some of his athletes succeed at the world stage, including gold Olympic medal achievements.  Roman's interest and passion towards physiotherapy started after having suffered from chronic and acute pain issues as an athlete and student. He was particularly interested in the benefits derived from exercise when prescribed as medicine due to its global effects in the body. Roman graduated from York University with a Specialized Honors BSc. in Kinesiology with the highest distinction (Summa Cum Laude) in 2013. He went on to complete his M.Sc. in Physical Therapy at the University of Western Ontario from 2014 to 2016.
During the Initial Physiotherapy appointment, Roman will perform a full-body scan to get to the root cause of the problem. He has always been fascinated by the body's ability to operate as a system, all parts in symphony with one another. His treatment approach is a combination of joint mobilization, myofascial and neural release, acupuncture, therapeutic and corrective exercises, as well as ultrasound, electro-therapy, laser, and R. shockwave as needed. Roman works hard to understand you and your goals so as to develop a treatment program tailored to your needs, desires, wishes, and preferences. He is especially keen on empowering clients to learn about their bodies and to find ways to manage their pain, mobility, and fitness from a preventative rather than reactive approach. Although he enjoys working with athletes, weekend warriors, and sports enthusiasts he also finds particular fulfillment in working with all age groups through a broad range of injuries from acute to chronic.
---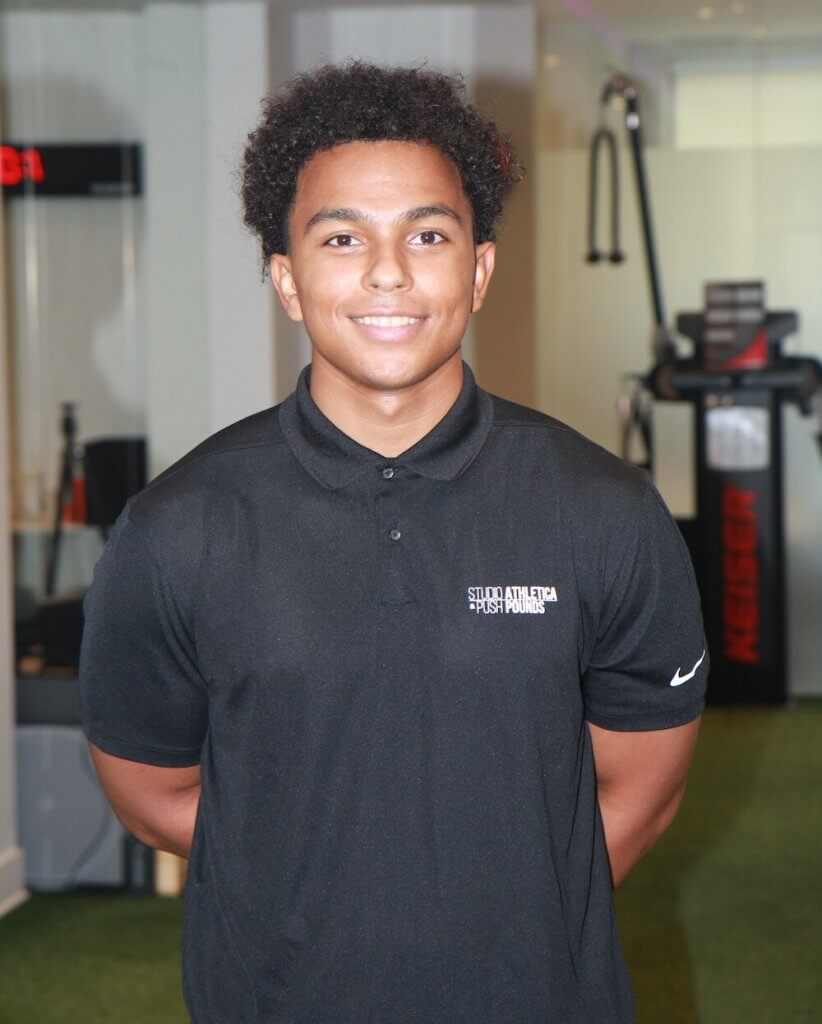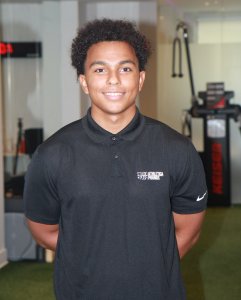 Noah Austin John, MSc. Ex Sci (Candidate), BKin, RKin, CSCS
Assistant Director of Performance
Noah completed his undergraduate degree in Kinesiology at the University of Toronto, as well as his Kinesiology registration (COKO) and Certified Strength and Conditioning Specialist (NSCA-CSCS) certification shortly after. Noah's expertise stems from experiences in several high performance populations including several years in the NBA, also experiences in MLS, NHL, NFL and collegiate athletics. Within these experiences, Noah built skills and techniques in physiology and biomechanical testing methods, rehabilitation and return-to-play systems, functional and optimal performance movement methodologies, as well as data analysis and research practices. Utilizing a holistic and evidence-based performance approach, Noah aims to implement strategies that best serve the needs of all patients and athletes encountered.
Noah is continuing his involvement in academia, currently completing his Masters of Exercise Science at the University of Toronto, focusing his research on physiological and motor learning adaptations in high performance sport settings.
Outside of the clinic, Noah is an avid basketball fan and athlete spending majority of his time watching or playing in some capacity while also enjoying a wide range of music and movies.
---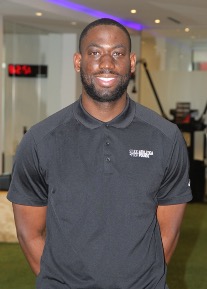 William Caesar, Msc P.T, Bsc Kin
Registered Physiotherapist
Director of Physiotherapy- East York
FIFA Diploma in Football Medicine
Acupuncture and Dry Needling
William completed his Masters of Physiotherapy from Manchester Metropolitan University in Manchester, England after receiving a Bachelor of Science Degree in Kinesiology at the University of Prince Edward Island, where he was on an Athletic Basketball Scholarship. During his time in Manchester, William also played professionally in the English Basketball League, (EBL) for 2 seasons. William has extensive experience working with professional athletes from the NBA, & MLS, and CEBL level, down to working as a therapist for the Island Storm of the National Basketball League of Canada, (NBL-C) and was also the therapist for the University of Prince Edward Island Men's Soccer team, capturing a CIS/USport Bronze Medal in 2014.
William has a keen interest in ACL Rehabilitation, stemming from suffering ACL tears in each knee in High school and University, later specializing in ACL rehabilitation while studying and working in England.
Forever committed to life-long learning, William is currently completing his Orthopaedic Manual Therapy Levels. William most recently participated in a Virtual Symposium called "The Making of a Student- Athlete" where he was among a group of world-renowned Health Care Practitioners educating young athletes the importance of injury prevention, strength and conditioning, and the evolution of sport medicine. Outside of working in clinic, taking professional development courses, and staying up to date with the current research, William enjoys spending time with his family, as well as playing basketball and soccer.
---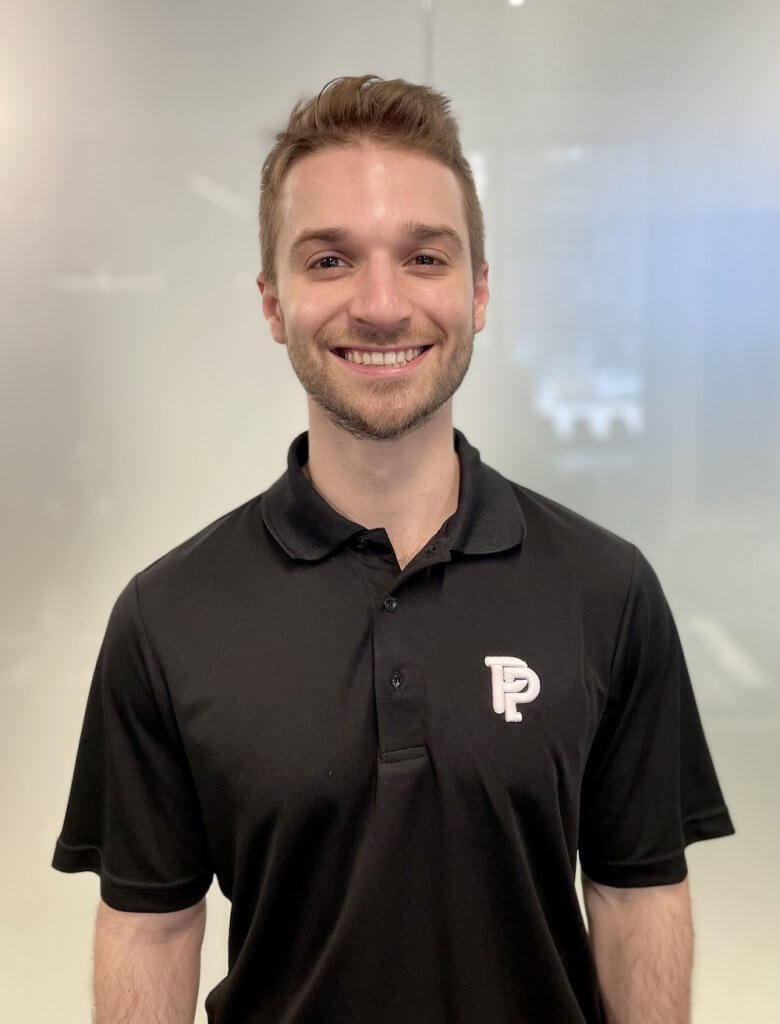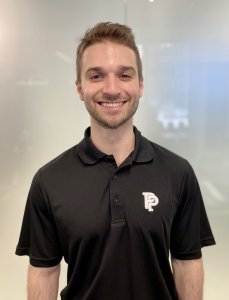 Russell Wolfe, MScPT, BSc Kin, NSCA-CPT
Following his Bachelor's Degree in Kinesiology, Russell earned both a Bachelor's and Master's in Physiotherapy at McGill University. Russell has a keen interest in both the scientific and human sides of rehabilitation. He is as passionate about the biomechanics of human movement as he is about empowering others to achieve their health and performance goals through strong communication and educational skills. Russell views the client-clinician dynamic as a partnership, and he aims to challenge the current state of the healthcare system by emphasizing patient autonomy and proactive (rather than reactive) health management whenever possible.
Russell believes that the more one can tap into their own potential, the more one can help others. You can typically find him personally exploring different forms of movement including weightlifting, Crossfit, gymnastics and running. On the side, Russell runs his own personal training company where he helps clients of all skill levels achieve their fitness goals.
---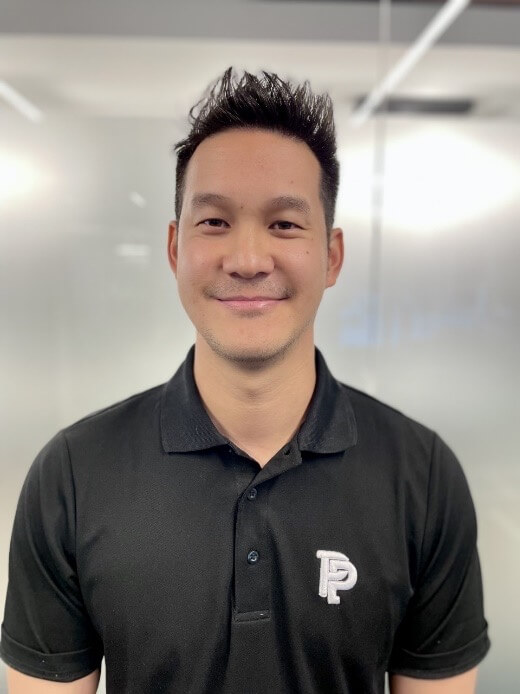 Kevin Lam, MSc. PT, Sport Cert., CSCS
Kevin recently moved to Toronto and is a graduate from Queens University (Master of Physical Therapy) and the University of Waterloo (Bsc. Biology & Psychology). Since graduating, he has been across Canada working and traveling in Vancouver before returning home and completing a Sport Physiotherapy Fellowship with the Fowler Kennedy Sport Medicine clinic. During his Fellowship, Kevin worked closely with Western Varsity Football and Men's Basketball while also attending to a multitude of sports injuries in clinic. Kevin has extensive experience working with high-level athletes in a variety of sports contributing to their ongoing success and desires to return to the field.
Kevin is dedicated to providing hands-on manual therapy, tailored exercise prescription and patient education to meet client goals. He has a broad range of experience working with a variety of different patient populations and settings including the assessment and treatment of acute injuries on field, in the emergency room and in clinic.
Kevin, being involved in competitive lacrosse and basketball has sustained varying injuries himself and therefore understands the importance of effective strength and conditioning in the prevention of injuries. In his spare time, Kevin enjoys anything active – Most recently, you may find him on the golf course or playing catch with his dog Plato.
Credentials:
KinetoCore Functional Dry Needling (FDN/IMS)
Certified Strength and Conditioning Specialist (CSCS)
Sport Physiotherapy Canada (SPC) – Sport Certificate
Specialized Training in Vestibular Rehabilitation
---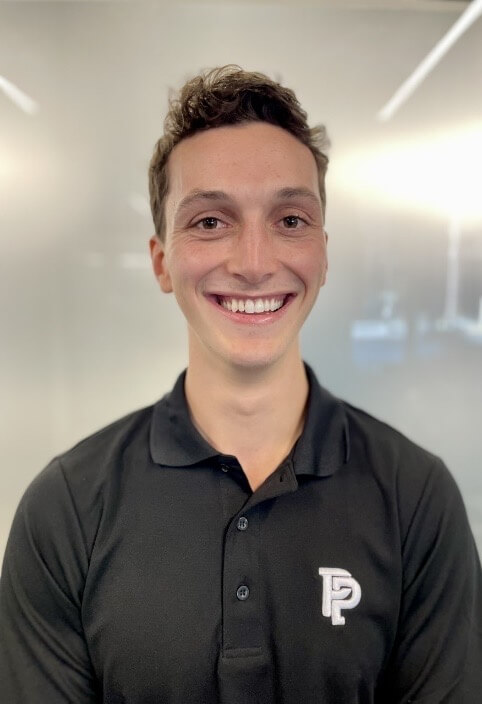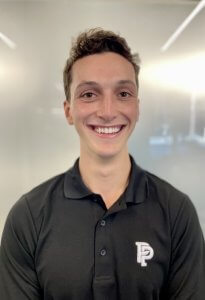 Noah Mandel, MSc. PT, CSCS
Noah is a devoted physiotherapist and Certified Strength and Conditioning Specialist (CSCS) who is passionate about the importance exceptional quality of patient care and pushing the physiotherapy profession forward. After receiving his Bachelor of Science Degree (Honours) in Psychology and Neuroscience from Wilfrid Laurier University, Noah went on to complete his Master's Degree in Physiotherapy back in his hometown at the University of Toronto.
While still just a student, Noah began his partnership with Physio Network, the leading company for providing education to physiotherapists around the world. He continues to work with Physio Network, where he disseminates the latest research findings to an audience of 200,000+ people. While understanding the significance of staying up to date with the latest scientific research, Noah believes it is even more important to truly listen to and connect with each patient and do whatever it takes to help them achieve their individual goals. Using a combination of exercise therapy, education, and manual therapy, Noah possesses all the necessary tools to help clients return to doing what they love.
In his spare time, Noah enjoys being active and is particularly interested in basketball, working out, and Brazilian Jiu-Jitsu. You can often find him watching shows and movies, playing chess, and spending time with his family.
---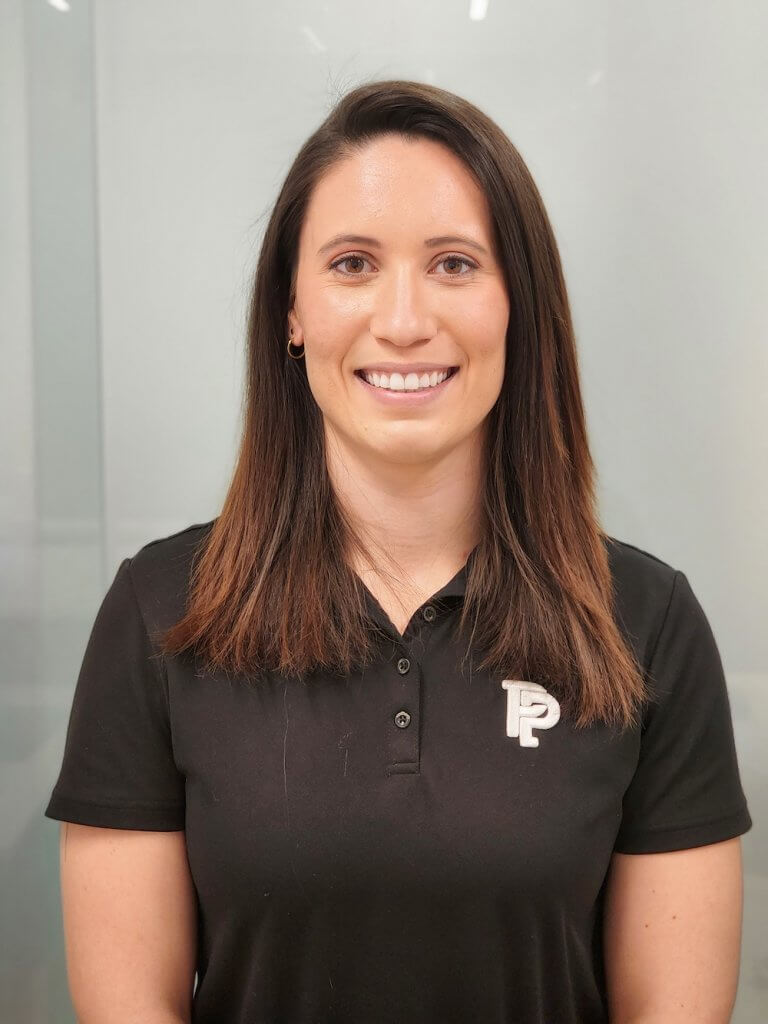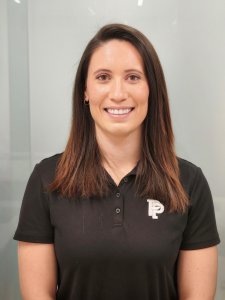 Stephanie Small, MS, RD, LDN
Registered Dietitian (U.S. and Canada)
Licensed Dietitian Nutritionist (Florida, Ontario, Alberta)
Precision Nutrition Level 1 Certified
PTA Global Certified Personal Trainer and Behavioral Change Specialist
Stephanie completed her Bachelor of Science degree in Exercise Physiology and Dietetics from Florida State University. Stephanie further pursued her career as a Performance Dietitian by attaining her Master's Degree in Exercise Physiology and Sports Nutrition Dietetic Internship at Florida State University. Stephanie has a special interest in performance, sports supplements, and carbohydrate metabolism. Where she has been able to work at highly accredited sports performance and military research labs across the US and Canada.
Stephanie has had the opportunity to be able to work with a variety of different athletes including NFL, Division 1 College Football, soccer, cross country, rugby, marathoners, triathletes, and military personnel. Stephanie utilizes a client-centred, evidence-based approach to address individual athletes' needs and works alongside the medical team to ensure optimal performance, recovery, and health of an athlete.
Stephanie continues to expand her career in research by working towards her Ph.D. in Kinesiology at the University of Toronto focusing on carbohydrate metabolism and muscle physiology in oncology care. Outside of the clinic, Stephanie enjoys long runs, powerlifting, trying new foods, spending time on the water, or diving into a good book.
---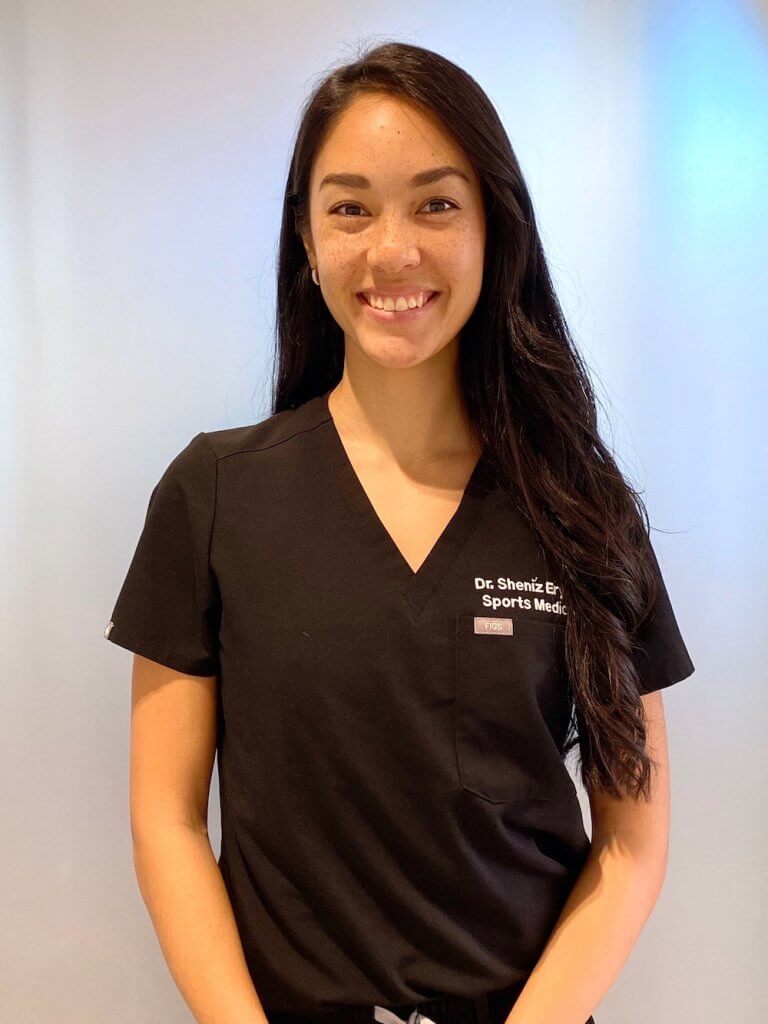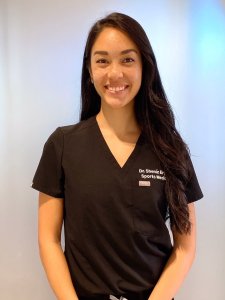 Dr. Sheniz Eryuzlu, MD, CCFP (SEM), Dip. Sport Med.
Sport and Exercise Medicine Physician
Dr. Eryuzlu completed her medical degree at McMaster University. She then completed both her residency and her Sport and Exercise Medicine Fellowship at the University of Toronto. During her fellowship, she had the privilege to train with exceptional mentors including the team physicians and surgeons for the Toronto Blue Jays, Toronto Maple Leafs, Toronto Raptors, Toronto FC, Toronto Argonauts, Toronto Marlies, and National Ballet of Canada. Dr. Eryuzlu works as a team Sport and Exercise Medicine doctor with the Scarborough Shooting Stars. She has previously also worked as team physician for the University of Toronto Women's Varsity Volleyball team, and she has additionally provided medical event coverage for World Synchronized Skating Championships, Canadian Collegiate Athletic Association Women's Soccer Championship, and various University of Toronto Varsity sports games.
Dr. Eryuzlu is passionate about helping her patients maintain a healthy active lifestyle. She works with every individual based on their goals, whether that's optimizing athletic performance, function, and/or quality of life. She enjoys caring for people of every age group, at all levels of physical activity, including recreational to elite and professional athletes. She treats acute and chronic musculoskeletal injuries and conditions such as ACL and meniscal tears, tendon injuries, frozen shoulder, osteoarthritis, sprains, strains, and stress fractures. She also manages sport concussions. She utilizes a comprehensive and multimodal approach to treatments including prescribing appropriate exercise and physiotherapy, braces, medications, and using cortisone, hyaluronic acid, PRP, and nSTRIDE ultrasound-guided injections when indicated.
---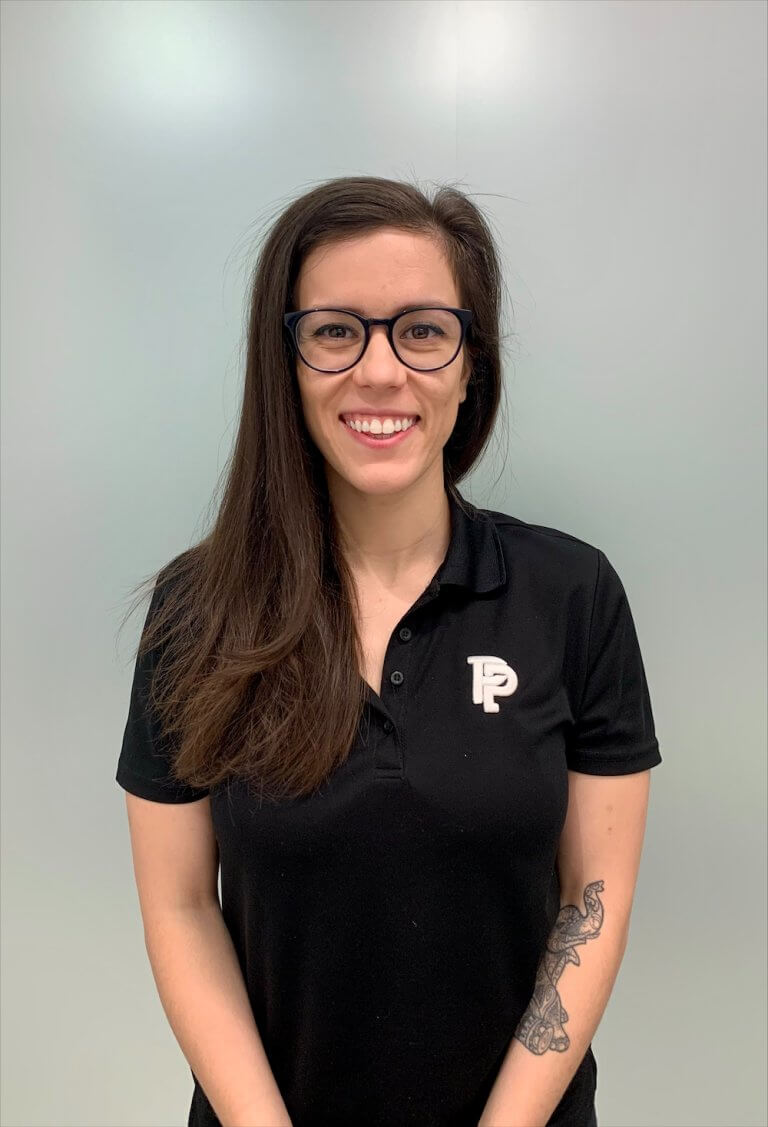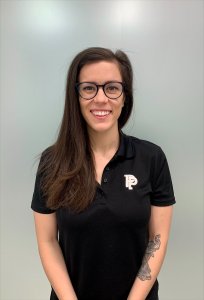 Tatjana Stankovic  MSc, CSCS, RMT
Strength and Conditioning Coach
Registered Massage Therapist
Tatjana is a registered massage therapist and a Certified Strength and Conditioning Specialist (NSCA- CSCS) with a keen eye for movement. Focusing on biomechanics during her schooling, Tatjana has received her Bachelor's degree in kinesiology and her Masters degree in exercise science. Since then, she has applied her comprehensive understanding of the body and its mechanics in both of her roles as a strength and conditioning coach and as a RMT. Tatjana has worked with a large breadth of people, ranging from everyday athletes to elite athletes performing at national and professional levels.
No two people move or experience pain/discomfort identically, so Tatjana applies an individualized approach to all of her patients. She is motivated to collaborate with her patients to achieve their goals – whether that's to be pain-free, recover from their day-to-day, or improve their performance in a sport. She strives to support her patients through manual therapy, movement, and education.
In her personal time you'll find Tatjana outdoors, strength training, or searching Toronto for the best tacos!
---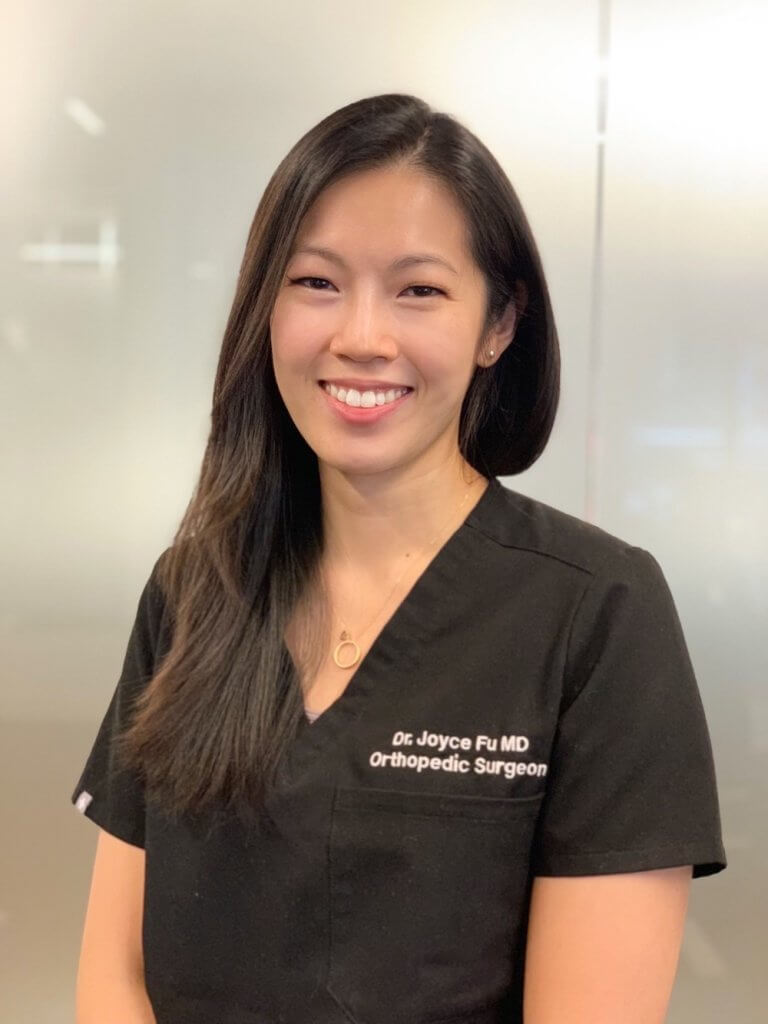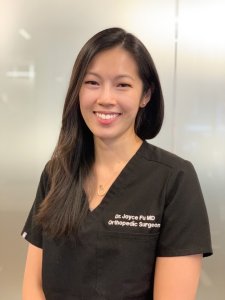 Joyce Fu MD MSc FRCSC
Orthopaedic Surgeon
Adult Foot & Ankle Reconstruction
Dr. Joyce Fu is a fellowship-trained orthopaedic surgeon with the Royal College of Physicians and Surgeons of Canada and a Lecturer at the University of Toronto. She specializes in the surgical treatment of adult foot and ankle conditions, including arthritis, deformity and sports injuries with special interest in minimally invasive techniques.
Dr. Fu received her Bachelor of Science from McGill University, and subsequently completed a Master of Science and Medical Degree in Washington DC, at Georgetown University. In 2019, she attained her FRCSC in Orthopaedic Surgery following completion of her residency at the University of Toronto. She completed a fellowship in Adult Foot and Ankle Reconstruction at the University of Toronto.
Her surgical practice focuses on adult foot and ankle reconstruction with a special interest in sports injuries, and minimally invasive technique for deformity reconstruction.
---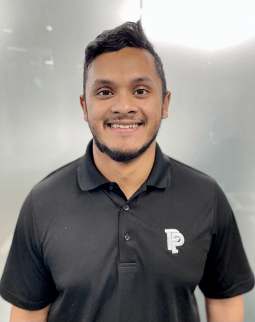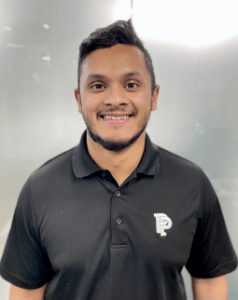 Usama Mujtaba
M.Eng, CSCS
Usama is a Certified Strength and Conditioning Specialist. Alongside his Performance Coach role at Push Pounds, is currently the Head Strength and Conditioning Coach for the Toronto Argonauts of the CFL.
Usama has experience working with multiple athletes from various backgrounds, as well as general population strength and conditioning. His philosophy behind training is that no-one is too young to stop training like an athlete, and no-one is too old to start.
Outside of the clinic, Usama enjoys hiking, travelling and watching re-runs of childhood shows
---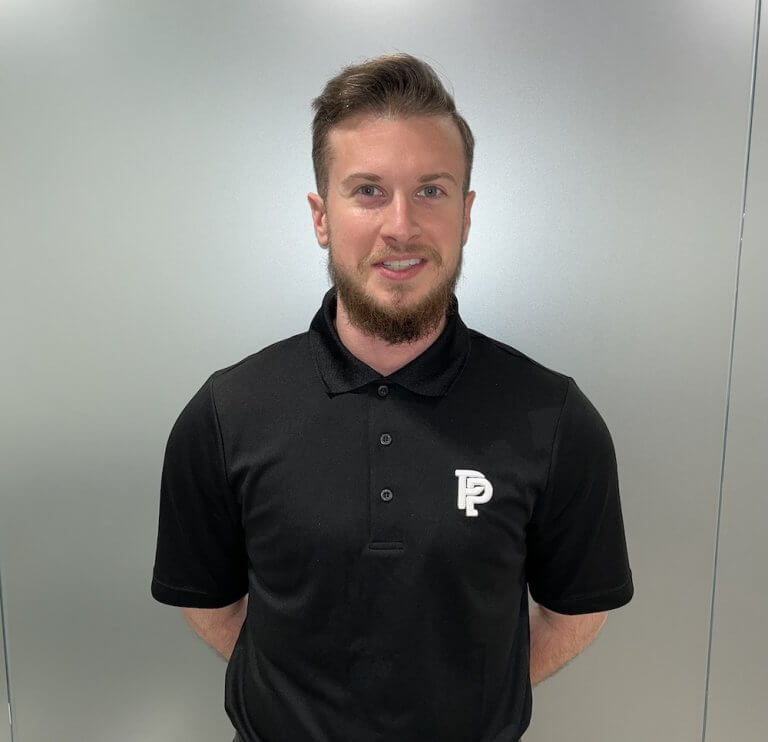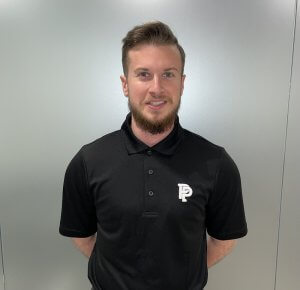 Daniel Strycharz, MPT, BHSc.
Registered Physiotherapist
Daniel is a two-time graduate from Western University, first completing his Honours Specialization in Health Sciences with Biology, followed by his Master of Physical Therapy. He is currently completing his Clinical Master of Sport and Exercise Medicine through Western to provide enhanced client care for elite athletes and weekend-warriors alike.
Daniel has a passion for sideline care, having worked with rugby, football, and hockey teams through their respective seasons. His treatment style involves a combination of manual therapy, progressive exercise, acupuncture, and an emphasis on education to ensure his clients are well equipped to improve their performance and sense of autonomy.
Outside of the clinic, Daniel can be found cheering on his beloved Toronto Raptors, weightlifting, or indulging in the local food scene with friends and family.
---
Dr. Rosty Serebryany
Spine & Extremity Chiropractor
Dr. Serebryany received a Specialized Bachelor of Arts with Honours Degree in Kinesiology and Health Sciences from York University, before continuing his education at the Canadian Memorial Chiropractic College in Toronto where he graduated as a Doctor of Chiropractic in 2005.
He began clinical practice in the downtown core in 2007, working with sports medical doctors formulating and providing expert care including novel movement-based correction, comprehensive exercises programs and whole-body musculoskeletal therapy. He was also involved in training 2nd year family med students in musculoskeletal injury assessment and treatment.
Dr. Serebryany has a strong focus on sports and performing arts related injuries with extensive experience treating the pediatric population, amateur athletes, sports enthusiasts and medical professionals. His approach to patient care is rooted in current, evidenced based treatment, and he approaches each patient as an individual, customizing treatment to maximize recovery and provide necessary tools and education to help strengthen, mobilize and most importantly prevent reoccurrence of injury.
---
Dr. Fouad Sayde, MD
Sports Medicine Physician
Dr. Fouad Sayse is a US Board Certified Internal Medicine and Sports Medicine physician.
He completed his undergraduate studies at the University of Western Ontario in Biochemistry and Physiology before obtaining his medical degree at the University of Balamand in Beirut, Lebanon. He then moved to Philadelphia where he completed his 3-year residency in Internal Medicine at Lankenau Medical Center. Fouad then moved to Detroit, Michigan for his Sports Medicine Fellowship at Henry Ford Health System, one of the top ranked Sports Medicine programs in North America.
He has worked with multiple professional sports teams and elite athletes including the Detroit Tigers (MLB), Detroit Lions (NFL), and Canada Basketball. He was the team physician for the University of Detroit Mercy NCAA Division I varsity athletes. During his tenure in Michigan, he also provided medical coverage for sporting events including the 2017 Detroit Marathon, the 2018 NCAA March Madness Basketball Tournament, the 2018 Michigan Special Olympics, and local high school football teams.
Fouad's Sports Medicine fellowship training emphasized musculoskeletal ultrasound techniques, allowing him to become skilled in ultrasound-guided injections of various joints including the shoulder, elbow, wrist/hand, hip, knee, and foot/ankle. He has performed hundreds of ultrasound-guided injections including procedures utilizing platelet-rich plasma (PRP), prolotherapy, hyaluronic acid, tenotomy/barbotage, capsular distension (for frozen shoulder) and stem cell injections.
---
Christen Chan   BPHE, CSC, MSc, MPT
Registered Physiotherapist
NSCA Certified Strength & Conditioning Specialist
Dry Needling
After completing a Bachelor of Physical Health & Education from the University of Toronto, I graduated from the University of British Columbia with a Master of Rehabilitation Sciences.  After spending a year working as a Certified Strength and Conditioning Specialist (CSCS) in Toronto, I ventured off to the University of Sydney for a Master of Physiotherapy in 2016.  Upon becoming a physiotherapist, I worked in Sydney at the highest level of professional rugby league (NRL) as a physiotherapist for 3 seasons.  I was fortunate to be the head physiotherapist for the Canterbury Bulldogs NSWRL Cup team for 2020.
From the past 5 years working as a physiotherapist, I have gained invaluable experience working at various capacities with top level amateur to professional basketball, hockey, Australian Football League, and cross-fit athletes.  While working in private practice clinics, I've developed a keen interest in post-operative rehabilitation, occupational injuries, and various sports injuries.
Utilizing the world-class resources at Push Pounds Sports Medicine, it would be my pleasure to assist and guide you in your post-operative rehabilitation, fitness journey or in maximizing your sporting performance!
---
Dr. Tom Mammen, MD, FRCPC
Interventional Musculoskeletal Radiologist
Dr. Mammen is an Interventional Musculoskeletal Radiologist who specializes in ultrasound-guided musculoskeletal procedures and image interpretation in the field of sports medicine. Dr. Mammen holds a Doctor of Medicine from University of Ottawa and completed radiology residency training at Dalhousie University. Additionally, he completed subspecialty training in Musculoskeletal Radiology at St. Paul's Hospital, University of British Columbia. Dr. Mammen holds a Master's in Medical Education from the University of Dundee, UK.