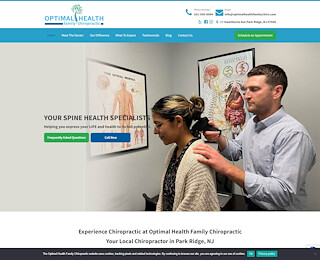 Optimal Health Family Chiropractic is a renowned clinic for pain management in NJ with excellent patient reviews. Our headache specialist in Westwood, NJ, Dr. Andrew O'Neill, has helped hundreds of patients manage and cope with their headaches through proper nutrition, chiropractic care, and exercise therapy.
How Will A Chiropractic Adjustment Help With Your Headache Pain?
A chiropractor for headache treatment performs spinal manipulations on the neck and back to mitigate headaches and migraine. Chiropractors, in general, use a targeted methodology to identify different vertebrae and the misaligned ones. They then use a series of maneuvers to align the vertebrae pressurizing your nerves. In some cases, the extra stress on the nervous system can prevent your body from functioning normally, causing headaches and other body pains.
We have the best headache doctors near Westwood, NJ, who can help with the headaches you are experiencing and alleviate your stress and tension, preventing future headaches. We also suggest dietary modifications and offer acupuncture treatments to help patients manage and overcome headaches, migraines, tinnitus, and neck pain treatment.
How Can Chiropractic Adjustments Help With Neck Pain And Headaches?
Chiropractors use specific tests, X-rays, and physical examinations to assess, diagnose, and manage neck pains and headaches. Several studies suggest that chiropractic care and manual therapy are effective treatments for cervicogenic and tension headaches and neck pains. Not to mention, chiropractic care can decrease the intensity and frequency of migraines. Our top doctors who treat migraines offer the following treatments to improve patients' quality of life:
Manual therapy
Soft tissue therapy
Modalities include electrical stimulation, acupuncture, and ultrasound
Rehabilitation
Lifestyle changes and education
Referral and co-management
Acupuncture, etc
If you are predominantly reliant on pain medications to manage your neck or headache, seeking chiropractic care can help you garner better outcomes. We have the best migraine doctors in Westwood, NJ, who use advanced technology and complex therapies in chiropractic medicine to help patients lead a pain-free life.
How Can I Prevent Headaches?
Some lifestyle adjustments can help prevent headaches and migraines. Most people have a headache when under stress or dehydration. Find healthy ways to manage stress like practicing yoga, massage therapy, etc.
Drink lots of water and eat a wholesome and balanced meal. Make sure you get at least 7-8 hours of sleep every day and avoid spending too much time looking at your phone or computer.
Can A Chiropractor Help With Migraine?
While migraine is a health condition with no cure, there are several alternatives and complementary therapies that can help you manage headache and its symptoms. Most people with migraines find ways to cope with their health ailment throughout their lives, relying on medications can cause significant side effects.
Chiropractic care is a safe and non-invasive alternative to nonsteroidal anti-inflammatory drugs and muscle relaxants. Chiropractors can treat your migraine symptoms and the underlying problems that often trigger the headache. Chiropractic spinal manipulation alongside massage therapy and physical therapy can help you manage your migraine headaches and lead a pain-free and active life.
Call 201-505-8984 to book an appointment with our headache specialist in Westwood, NJ, Dr. Andrew O'Neill. Optimal Health Family Chiropractic is a leading treatment facility with the best team of chiropractors, nutritionists, and RNs. We not only offer chiropractic adjustments but also offer massage therapy, acupuncture, food sensitivity testing, etc., helping our clients lead a healthy and fulfilling life.