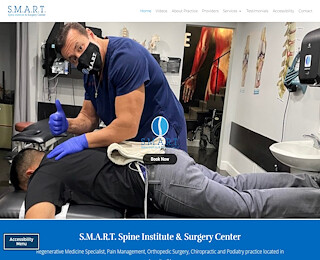 Chiropractic care is an all-natural and drug-free answer to your problems, whether you're in pain or suffering from lack of sleep. However, many people are skeptical and doubtful about the benefits of chiropractic care. Chiropractors can treat several musculoskeletal problems. For those in doubt, here are signs that you could benefit from a chiropractor. 
You have chronic pain in your joints
You could benefit from visiting a chiropractor if you experience persistent pain in your ankles, knees, or wrist. If you're an athlete, pain could build-up if you do repetitive motions during a workout. Joint pain could also be a sign of health problems. A chiropractor will help you identify any underlying health issues associated with your joint pain and get you some relief. 
You have lower back pain
Almost everyone gets lower back pain at some point in life, which can be frustrating. Lower back pain makes getting up after sitting for an extended period a painful chore. Don't surrender yourself to a painful life. Fortunately, chiropractors are best known for treating back pain. You need to visit a chiropractor if your pain has lasted for more than four weeks, is accompanied by fever and chills, or has gotten worse.
You are suffering from limited range of motion
 If minor activities like picking up an object or tying to wear your shoes are a struggle, you could benefit from a chiropractor visit. Every motion activity shouldn't hurt, and when they do, you need a chiropractor to help you get your body back to the way it's supposed to.
You recently had an accident
If you had an accident and did not see a physician immediately because you felt fine after the accident, this could lead to aches and pains later. A small fracture due to a fall or accident could flare up with full force when you didn't expect it. Let the doctor be the judge even if you don't feel sore and swear after your accident.
You feel numbness or tingling in your limbs
Tingling, numbness, or sharp shooting pain in your leg means a pinched nerve or a slipped disc. Sciatica pains are common ailments that chiropractors treat, and they'll provide you with the care you need. Tingling, numbness, or sharp shooting pain in the feet or hands also mean your nerves are restricted. While most people believe that chiropractors treat the spine, they are also treating the nervous system. A chiropractor can tell you what's causing tingling and numbness by examining your symptoms and start treatment.
Schedule an Appointment Today
If you are in San Gabriel, CA, and experiencing any of the signs above, Contact SMART Spine Institute & Surgery Center at 626-445-0326 for immediate relief. We are a leading Chiropractor in San Gabriel, Ca, and can help you take the first step towards a new and healthier life. When you contact us, our chiropractor will conduct a thorough evaluation of your needs and develop a treatment plan to effectively manage your pain.