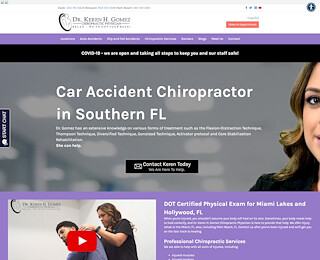 If you've been in an auto accident and don't know where to turn for help, consider the Car Accident Clinic in North Miami, Florida. They help patients every step of the way following an accident, from holistic treatment for their injuries to helping them get connected with legal representation. If your auto accident injuries are keeping you from being able to work, seek the help of the professionals.
Dr. Keren Gomez from the Car Accident Clinic in North Miami, Florida offers this critical advice following an accident:
– First, call 911 so that police and medical responders can get to the scene to help the accident victims. If you're unable to make the call to 911, ask someone else to call. Too often, those involved in an auto accident think someone else will call 911. Don't take for granted that it's already been taken care of. This is an essential step after a car crash.
– If you've been injured, go to the hospital. Worry about the bills later; your first concern is to get medical help, have x-rays taken and get checked out. Since the effects of some injuries may not manifest for weeks or even months, it's essential that you are thoroughly looked over. 
– If your injuries are not serious, you may choose to seek medical help on your terms. Don't let anyone fool you into thinking there's plenty of time to do so. You have only 14 days to seek medical treatment in the state of Florida. Call the Car Accident Clinic in North Miami, Florida at 305-761-6528 and make an appointment with Dr. Keren Gomez. As a Chiropractic Physician, she is experienced and qualified to treat your injuries. You will receive the highest quality of care while being treated.
– Contact your insurance company and request a claim number from them. This notifies them that you've been in an accident and that you were injured. The claim number will help your lawyer communicate with your car insurance company and will facilitate your auto repairs if the person who caused the accident was not insured.
– Hire an experienced lawyer who can represent you in your case. The Car Accident Clinic in North Miami, Florida works with attorneys throughout Florida to find an ideal match for your needs. If you find yourself in a situation where your insurance company does not want to pay your medical bills, having an attorney that will represent you accordingly can free you of that financial burden and accelerate the property damage repair of your vehicle.
If you've been in a car crash, you may be entitled to receive medical treatment under Florida Statute. If you were at fault or not at fault in an auto vs. auto collision, you may qualify to receive medical treatment as well.
Don't try to go through this alone. Contact the Car Accident Clinic in North Miami, Florida and have peace of mind that you contacted the most qualified medical treatment facility in South Florida. Call 305-761-6528 now.
Dr. Keren Gomez
305-761-6528
12550 Biscayne Blvd Suite 404
North Miami
FL
33181
US